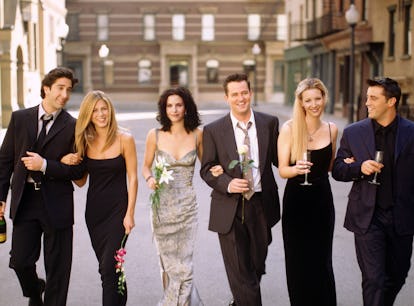 3 Mood-Boosting TV Shows To Watch This Summer
NBC/NBCUniversal/Getty Images
After a long day of class or interning, it's normal to want to go home and relax on the couch in front of your television or spend your before-bed hours watching TV on streaming platforms in front of the bright screen of your laptop. While sitting down to watch an episode or 10 may be your idea of a leisurely activity, some of the shows you watch no matter how good, can actually make you stressed or trigger unsavory emotions. According to a recent poll of 2,000 adults in the U.S. commissioned by streaming platform Plex and conducted by OnePoll, 51% of people said that the shows they watch can impact their emotional standing for the rest of their day. In particular, 41% of participants said that the largely popular doctor drama Grey's Anatomy leaves people feeling "emotional" due to the intense themes explored in every episode. In the same sentiment, shows like 13 Reasons Why had a similar effect.
While these intense shows can cause stress or negative emotions, some TV shows do have the potential to boost your mood, creating the opposite effect. In fact, the poll found that 67% of adults think watching a "comfort show or movie" can make a bad day better. And some genres are better than others, with most people (52%) preferring comedy before going to sleep — specifically, when it's centered around family or a group of friends. According to the research, these are the best shows to watch to feel the happiest:
Modern Family
Family comedy Modern Family topped the list, with 65% of participants agreeing it creates the most happiness. The sitcom, which premiered in 2009, ran for 11 seasons and ended in 2020. With a mockumentary format, the show features interviews and direct looks at the camera, and tells the story of three separate groups within the same family. Phil (Ty Burrell) and Claire (Julie Bowen) deal with the trials and tribulations of trying to raise and connect with their three children: Hayley (Sarah Hyland), Alex (Ariel Winter), and Luke (Nolan Gould). Mitchell (Jesse Tyler Ferguson), Claire's brother, and his partner Cameron (Eric Stonestreet) handle becoming parents to their adoptive daughter, Lily (Aubrey Anderson-Emmons). Jay, Claire, Mitchell's father, and his young wife Gloria (Sofia Vergara) navigate their age gap and their blended family, including her son Manny (Rico Rodriguez). And everyone, together, experiences the difficulties and joys that come with familial relationships. While it's no longer running, it's still a fan-favorite comfort show. You can stream it on Hulu or Peacock.
Friends
Premiering in 1994, Friends is a close second in the list of happiness-inducing TV shows, with 61% of adults choosing the sitcom as their feel-good show. The show, set in New York City, details the lives of six friends, Rachel (Jennifer Aniston), Monica (Courtney Cox), Phoebe (Lisa Kudrow), Ross (David Schwimmer), Chandler (Matthew Perry), and Joey (Matt LeBlanc), all living close together. The six of them are constantly getting involved in each other's love lives, family drama, and general ways of living, which creates loads of wild comedic experiences. The show ran for 10 seasons, finishing in 2004, and although it has been off the air for nearly 20 years, it's still incredibly popular. So much so that cast members reunited for Friends: The Reunion in 2021 as a way to look back on the fun memories and moments from the sitcom. You can even experience elements of the show in New York City like The FRIENDS Experience, a coffee house designed to replicate the Central Perk coffee shop from the show. Watch Friends on HBO's Max streaming platform.
The Fresh Prince Of Bel-Air
Fifty-nine percent of participants felt that The Fresh Prince of Bel-Air, which ran from 1990-1996, was a mood-booster. Will Smith stars in this '90s sitcom as the main character, essentially playing someone with a similar origin story. After getting into some trouble in West Philadelphia, 16-year-old Smith is sent to stay with his Aunt Vivian (Janet Hubert and Daphne Maxwell Reid) and Uncle Phil (James Avery) in the Bel Air neighborhood of Los Angeles for a safer environment and fresh start. Will is incredibly charismatic, bubbly and adventurous, which is a contrast to the more reserved and ritzy nature of his cousins, Hilary (Karyn Parsons), Carlton (Alfonso Ribeiro), and Ashley (Tatyana Ali). Although they share lots of differences, Will, Aunt Vivian, Uncle Phil, and his three cousins form a bond and learn things from each other, which creates a show filled with lots of funny, feel-good moments. The Fresh Prince of Bel-Air is available to stream on Max and Paramount +. It was also re-imagined in 2022 on Peacock under the name Bel-Air and has two seasons out.