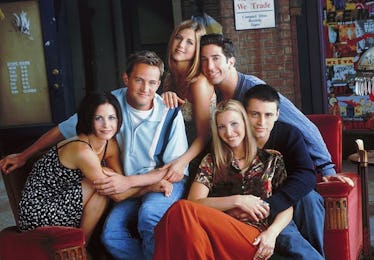 Prepare To Absolutely Lose! It! Over This Friends Reunion Trailer
HBO max
When HBO Max was gearing up for its debut in the spring of 2020, the plan was to anchor it with a mega Friends reunion. One of the most popular sitcoms of all time (and a streaming favorite), Friends is already a huge draw for the streaming site; having a reunion special would have certainly made a splash. Unfortunately, the start of the coronavirus pandemic in 2020 upended those plans, putting the reunion special on infinite hold until it was safe to film in front of a live studio audience again. A year on, that time has finally come, and HBO Max's 2021 Friends reunion is on its way.
The official title of the special is Friends: The Reunion. Not too much is known about the reunion, but HBO Max did reveal the special will feature more than just the six cast members wandering up and down memory lane — there will be a whole lot of (A-list) guest stars there too. But the specifics of what they talk about will likely have to wait for the special's premiere at the end of May 2021.
Friends: The Reunion is also a good reminder to those who haven't watched the series since it exited Netflix that all 10 seasons are currently streaming on HBO Max.
Let's run down everything we know about the special so far: