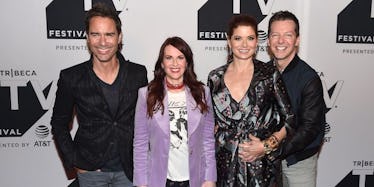 Here's How One Joke About Trump's Wall Led To The Whole 'Will & Grace' Revival
Tribeca TV Festival
Though it's been off the air for over a decade, Will & Grace is just as relevant as it ever was, and as twisted as it sounds, that's thanks in large part to Donald Trump's election to the presidency. In fact, it was Trump's adamant campaign promise about building a wall on the Mexico-U.S. border that inspired the classic sitcom to stage its big comeback in the first place. Co-creators Max Mutchnick and David Kohan joined the main cast — Debra Messing, Eric McCormack, Megan Mullally, and Sean Hayes — onstage at the Tribeca TV Festival over the weekend to reveal how the once-concluded series found new life thanks to a happenstance joke about Trump.
As recently as last year, nobody was planning to bring Will & Grace back, but that changed after series co-creator Max Mutchnick made a quick little joke to his husband about how Karen Walker (Megan Mullally) might respond to Trump's drastic border control plan. Apparently, after Trump began making promises to build a wall between the United States and Mexico during his presidential campaign last year, Mutchnick joked that Karen would probably be training her maid Rosario on a rock climbing wall in order to ensure she would make it to work on time. That small joke then grew into the whole revival, Mutchnick revealed, as he got in contact with his co-creator David Kohan and they began working on the upcoming ninth season, which has a notable political bent to it.
Unfortunately, though, the new series actually does not include the wall-climbing joke that was responsible for generating it. After screening the first episode of the new season (which premieres on NBC this Thursday), Megan Mullally revealed to the Tribeca TV Festival audience that the actress who played Rosario, Shelley Morrison, had recently retired from acting, and isn't in the new episodes.
Although that joke is out, the new series is still packed with politically charged humor. The team actually first promoted the revival through a viral webisode before the election called "#VoteHoney," which featured the main cast arguing over who to vote for in the upcoming election. The political theme continues in the premiere episode, which is largely set within the White House. I won't spoil the specifics for you here, but the season premiere finds Will, Grace, Jack, and Karen all wreaking havoc inside the Oval Office, the Rose Garden, and other parts of the White House while Trump is away.
Funnily enough, Donald Trump and his wife Melania have been mainstays on Will & Grace for years before they had any political aspirations. A running gag on the early-2000s sitcom involved Karen's ridiculous friendship with Donny and Melanio, as she affectionately refers to them. Of course, nowadays Karen's buddies are a lot more powerful than when they were only real estate magnates, and her character serves as the lavish, Trump-loving foil to Grace (Debra Messing), who is incredibly upset by Trump's election to the presidency.
Though the series does have Karen as an avid Trump supporter and keeps its political fare mostly light and fun, the cast and creators have made their feelings regarding the current administration very clear time and again. At the Tribeca TV Festival panel, co-creator David Kohan told the audience how he would react if our Twitter-happy and TV-obsessed president happened to tweet about the jokes made at his expense in the premiere episode. When asked how he'd respond if Trump called him a "son of a b*tch" for the episode, Kohan said he's ready to fire back:
I guess I would rather be a son of a b*tch than the son of someone who was arrested at a KKK rally.
The burn references reports that Fred Trump, Donald's father, was arrested during a KKK march in New York back in 1927. For his part, Donald Trump has vehemently denied this arrest ever even happened.
But viewers looking for a brief escape from the horrors of our current political situation shouldn't necessarily turn away from the Will & Grace revival — the new run may joke about politics, but true to form, it's still a light and bouncy sitcom that's much more about the relationships between the four main characters than anything else. Will & Grace Season 9 premieres on Thursday, Sept. 28 on NBC.