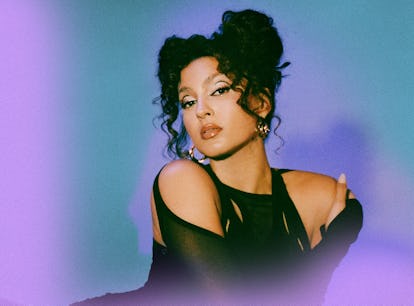 Welcome To Tori Kelly's Y2K, Pop Princess Fantasy
"It's a new sound for me, but at the same time, it feels like I'm going back to my roots in a lot of ways."
The last time Tori Kelly sat in the music booth, she was strumming chords to what she defines as "sad music." That term represents her last two efforts, 2019's Inspired By True Events and her quarantine EP, Solitude. These slow-burn records, which are ripe with melancholic harmonies and soulful acoustics, were necessary stepping stones in her career. It found her returning to her bread and butter of R&B-pop, a sonic direction that's embraced her vocals like no other. Now, Kelly's leaning back into that rhythmic sound on her upcoming album, and she's toting nostalgia along for the ride.
Like many musicians who tease their new music era, the 30-year-old singer quietly wiped her Instagram clean in March. Kelly then began sharing soundbites of her whirling falsettos and cryptic videos on Twitter, including a nearly-minute clip celebrating her decade-long career. For an extra touch, she also retweeted numerous tweets from fans encouraging her to drop new music.
On March 7, the California native announced her comeback single, "Missin' U," on Instagram. Both fans and celebrities (including friend JoJo, Ella Mai, and Jordin Sparks) flocked to the comments section to welcome Kelly back. She then released the serotonin-induced track 10 days later.
"It felt so amazing to finally show the world what I've been working on. I mean, music is kind of all I know, so I've been craving for fans to hear that," Kelly tells Elite Daily, her face beaming with excitement. There's an admirable hint of gratitude in her voice as she speaks, almost as if she's mentally revisiting all the highs in her music career.
"Missin' U" will appear on her upcoming album. Though the singer hasn't hinted when the project will release, she says the production process inspired her to go back to her roots — literally. For this era, Kelly traded her signature honey-blonde curls for a natural brunette hue, which is slicked back in a tight bun during our conversation. Kelly also tapped into her inner Y2K fashion bag, adopting styles like form-fitting mesh tops, puffer and oversized jackets, and vibrant knit tops reminiscent of a Stacie Orrico album cover. It's as though the world's steadily watching her become a pop princess, even though fans have cemented her as an underrated heir to the R&B-pop throne since her introduction on American Idol in 2010.
Her ode to the early 2000s doesn't stop in the style department. She channeled the nostalgic era in the production of "Missin' U," which sees Kelly recalling a past relationship over buttery, '90s R&B-inspired melodies. Spurring in with airy chords, the track — which is produced by Jon Bellion — has that essence of a bop listeners would've heard on a TRL countdown. While cooing about her ex-partner, she smoothly samples "Fill Me In" by Y2K-heartthrob Craig David, and even slips in a guitar melody that calls back on his hit, "7 Days."
"It feels like everything I've done in my career has almost led up to this album," Kelly says. "You know, it's a new sound for me, but at the same time, it feels like I'm going back to my roots in a lot of ways. And I'm having so much fun doing so."
Below, Kelly shares the sounds that inspired this new era, if her upcoming album will receive the tour treatment, and how she still wants to appear on TRL.
Elite Daily: "Missin' U" is already such a gem. Was this release always your first choice as a comeback single?
Tori Kelly: For a while, I felt like all of the songs we had ready were good choices to be a single. I could've taken any route for this first release because there are so many sounds and inspirations on the album. But my whole team was like, 'You know, "Missin' U" feels like the right one,' and I couldn't agree more.
ED: How do you feel about the reception this single has gotten so far?
TK: I've been loving it! Even more, I love seeing how curious my fans are about what the next songs will sound like. That excites me more than anything.
ED: "Missin' U" feels like a love letter to the late '90s and Y2K era. What inspired you to play around with those specific sounds on this single?
TK: When I was in the studio with John Bellion, we kept thinking back to that certain technology heard in old-school U.K. R&B. There's something about those bass and drum patterns and the overall mix that stuck with us, especially with artists like Craig David. He was a huge inspiration. It was fun to give nods to that era, but also make it sound fresh and a little bit futuristic. I think that's why I love this song so much, because it's a blend of sounds I grew up listening to.
ED: Will that nostalgic flare make up the entirety of your upcoming album?
TK: The sound on "Missin' U" is definitely one of the inspirations that bled into the project, but there's more to it. We were inspired by hip-hop — late '90s, to be specific — and R&B is definitely a big inspiration of mine. I'm touching on all these different musical aspects of my career, but at the same time, it's a new musical era for me and there's so much more to discover.
ED: On the single cover of "Missin' U," you're rocking your natural brunette color. Was there a specific moment during album mode where you knew you wanted to give the blonde look a break?
TK: Yeah, that's such an interesting question. When I was in the studio, I was already starting to let my roots grow out. I was like, 'I'm over this. I don't wanna dye my hair anymore. I think it's just time for a change.' [Laughs] And even fashion-wise, I was already playing with different styles. But even with those moments, I think the music led me into that headspace a little more, too. Right when we were about to release the single, it just made sense to not dye my hair. It just felt right.
ED: Speaking of that, the overall aesthetic of "Missin' U" is different than what fans know you for. Did you have any hesitations in debuting this look in this era, even though it seems to be a natural extension of who you are as an artist?
TK: I knew that with me being in the game for so long, some people might remember me one way and then after not paying attention to my career for a while, they might look at the overall package and say, 'Oh, that looks so different.' But as you mentioned, this look is both very natural and a progression of me figuring out what I love. So no, I wasn't nervous about it. If anything, I was excited to show something that feels fun and freeing.
ED: Absolutely. That carefreeness oozes throughout the "Missin' U" music video. Speaking of that, what was your favorite memory of shooting the music video?
TK: That day was pretty crazy and amazing at the same time. One memory that comes to mind is when we were doing the silver setup and I wore that puffer jacket. That specific shoot was in the middle of the day, so by that point, I was getting really delirious and was like, 'OK, I need my second coffee. A little pick-me-up, something.' I eventually ate some sour candy we had on set, but I remember getting really goofy beforehand and continuously doing multiple takes. I made it work for the video, though, so that was certainly a highlight.
ED: You told People that you're sprinkling in Easter eggs, such as the brief video of you holding a VHS tape that reads, "do u evr think of me?" Are there any other messages you've released so far that fans might have overlooked?
TK: [Laughs] So far, nothing's necessarily been overlooked. I think the details I've been purposely sprinkling in will make sense later. For example, last year, I did a cover of Craig David's "Fill Me In." And now, fans are noticing that particular song's melody is sampled in "Missin' U," and they're like 'Oh my gosh. She did that cover on purpose.'
ED: JoJo recently made a TikTok singing the chorus of "Missin' U." If you were given the chance to cover a song of hers, what would it be?
TK: Oh my gosh. She's given us so many bangers. I've always loved that one song from The High Road where she samples "Africa" [by Toto].
ED: Oh, I think you're talking about "Anything."
TK: Yes! That's my song. I love that you knew that. [Laughs]
ED: I love the way her vocals mix against the sample. That's probably in my top five favorites in her discography.
TK: I agree. I love so many of her songs. She's definitely paved the way for a lot of younger artists. We were both really young when our careers started, but she was already killing it at that time. I remember looking up to her and thinking, 'Wow, that's the impact I want to have.'
ED: If fans could listen to your iPod from your teen years, what artists would they hear?
TK: Music-wise, I was kind of all over the place. Destiny's Child was definitely a thing for me, Missy Elliott, and Aaliyah. But I also had this alternative rock side, so I was into Paramore (and still love them, by the way), Lenny Kravitz was a vibe for me, and even Led Zeppelin.
ED: Definitely. I feel like if you never had a rock or alternative phase, then you truly didn't listen to music.
TK: I agree! Fall Out Boy was another huge artist that made that phase so great for me. And that emo rock sound is coming back around, too. I love it.
ED: Can fans expect a tour in this new era?
TK: Yeah, definitely. It's such a rewarding feeling to put in all this work and perform it to a crowd that's just as excited to sing along to it. I have some ideas for a tour and I'm excited to really dig into that.
ED: If you could only choose one: TRL, 106 & Park, or VH1's Top 20 Countdown?
TK: Ooo, that's so cruel! [Laughs] Yeah, I'll go with TRL. That show has a special place in my heart because it was such a huge part of my upbringing. I was actually talking about TRL with someone the other day and how sad I was that I can't be on the show now.
ED: I remember they revived the show a few years back, but it never went anywhere.
TK: Really? Oh, wow. Just the thought of the hosts calling out my name and me walking out, waving down to the crowd? I've literally visualized that before.
ED: I can imagine you re-creating your own TRL intro for the tour promo. That would be such a moment.
TK: [Laughs] Right? That would be fun. We'll see.
This interview has been edited and condensed for length and clarity.