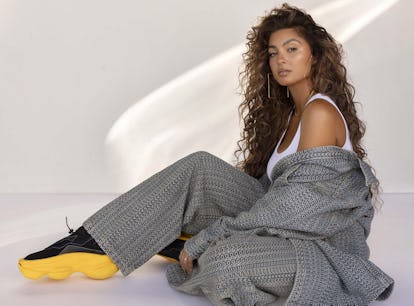 These Teasers For Tori Kelly's New EP Are So TRL Coded
She's in her Stacie Orrico bag.
This is certainly the summer of music comebacks. Many artists, especially those who've been suspiciously quiet in the last few years, have soft launched their return to the music scene this season. The latest star to join the crowd? Tori Kelly. Earlier this year, the singer began teasing her new era on social media. And by the sound of her March single "Missin' U," it's clear Kelly's been studying the beauty of early 2000s R&B and pop. Now, fans can *finally* hear her full admiration of the nostalgic period with her upcoming EP, Tori.
On July 11, Kelly announced Tori on Instagram. She also shared the record's cover art, which sees her posed near a white wall in her new look. For this era, Kelly retired her signature honey-blonde curls for a brunette hue. This swap shocked fans, as they grew accustomed to seeing her a certain way for over a decade. But Tori's been a natural brunette since she debuted in 2010.
Kelly spoke about her makeover with Elite Daily in May. "When I was in the studio, I was already starting to let my roots grow out. I was like, 'I'm over this. I don't wanna dye my hair anymore. I think it's just time for a change,'" she said. "It just made sense to not dye my hair. It just felt right. This look is both very natural and a progression of me figuring out what I love."
Six days after announcing Tori, Kelly also shared its tracklist on Instagram. The EP — set to release on July 28 — features seven songs, including her lead single "Missin' U." On the track, Kelly easily reminds listeners that her voice was meant for an R&B-meets-pop clash. Just shy of two minutes, the singer recalls a past relationship she wouldn't mind giving another chance. She uses rich flecks of old-school U.K. R&B (think Craig David's "Fill Me In") to drive this reality home, and it's quite an infectious listen.
"Missin' U" also offered a first taste of Kelly's collaborative magic with producer Jon Bellion. Bellion, whose songwriting chops recently appeared on the Jonas Brothers' latest album, will also serve as a feature on Tori.
Kelly's upcoming release is exciting, especially for fans who've been waiting for her to create new music. Check out all the details about Tori, below.
Tori's Release Date
Tori Kelly's upcoming EP will release on July 28, 2023.
Pre-Order Information For Tori
Fans can now pre-save Kelly's album on Apple Music and Spotify.
Tori's Tracklist
Tori boasts six songs, including features from Jon Bellion and Nigerian singer Arya Starr.
See the full tracklist below:
"Cut"
"Missin' U"
"Shelter"
"Unbelievable (Ft. Arya Starr)"
"Alive If I Die"
"Young Gun (Ft. Jon Bellion)"
"Missin' U (R&B Edit)"
Will Kelly Go On Tour For Her Tori Album?
Kelly's fans are certainly in for a treat. In her May interview with Elite Daily, the singer revealed she has plans to bring her new music on the road. "It's such a rewarding feeling to put in all this work and perform it to a crowd that's just as excited to sing along to it. I have some ideas for a tour and I'm excited to really dig into that," she said at the time.
Kelly hasn't shared any details about a potential tour. However, with the level of care she's put into this record's rollout, any tour-related news is well worth the wait.
Music Videos & Teasers For Tori
Shortly after announcing Tori, the singer began sharing teasers of the album on TikTok. She started her snippet posts on July 14, where she posted a dizzying clip of her track called "Cut." This upbeat snippet is an absolute banger, and embodies a Y2K-R&B flare that's reminiscent of a Darkchild beat.
On July 19, Kelly upped the ante with another snippet named "Shelter." This track might sound familiar to fans, as this was one of the few unreleased gems the singer shared on Instagram before announcing the EP.
The nostalgia on this teaser is real. On July 20, Kelly released another brief video of her singing along to "Alive If I Die." While the other two teasers (and her lead single "Missin' U") sounds like a Y2K TRL bop, this track feels so 80s-coded. From that dream-pop melody to the atmospheric layered guitars in the background, this song sounds like it belongs in the end credits of a romcom from that era.
By the sound of these teasers, Kelly's looking to dominate the summer.
This article was originally published on