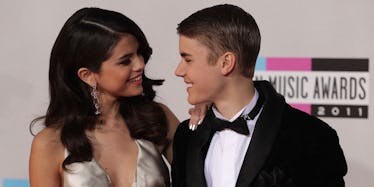 This Throwback Video Justin Made For Selena's Birthday Will Rip Your Heart Out
Shutterstock
There are some iconic relationships we'll never get over.
Brad and Jennifer. Zayn and Perrie. Nick and Mariah. Taylor and Calvin (too soon?). Chris and Gwyneth. Orlando and Miranda. Ryan and Rachel.
Ugh, my heart can't handle all of these celebrity breakups.
But there's one relationship that hurts more than any of them. It's the type of love that will never die. Well, social media refuses to let it die, at least.
Justin Bieber and Selena Gomez.
Jelena, if you will.
Old photos of the two are always brought back to the forefront of the internet. Justin himself even loves to post a throwback pic every once in a while.
He just loves to add fuel to the #JelenaForever fire.
Today, July 22, is Selena Gomez's birthday (also Prince George's). Personally, I was expecting Justin to post a pic, or at least tweet something at Selena. He's never been one to keep silent or let Selena move the fuck on with her life.
Sadly, there hasn't been anything yet.
So, in order to celebrate their young love affair, we'll just have to watch this video supposedly taken six years ago for Selena's 18th birthday.
No one else in the office agrees with me, but I think Justin looks like a Sims character here.
They tell me "it's just bad quality. It was 2010, Lydia."
Whatever. HBD, Selena.