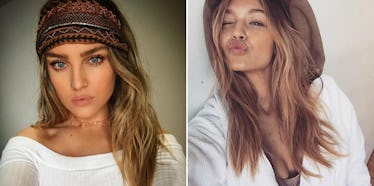 Perrie Edwards Channels Gigi Hadid In This Super Sexy Bikini Pic
Instagram
I need to say this right away: I'm Team Gigi and Team Perrie. Never Team Zayn.
He betrayed One Direction and caused the downfall of the greatest boy band of all time.
OK, now that we got that out of the way, let's talk about this recent Instagram of Little Mix member and Zayn's ex-fiancée Perrie Edwards.
The British singer looks absolutely incredible and says she's "VERY happy."
Oddly enough, Zayn Malik's current girlfriend, supermodel Gigi Hadid, posted this photo around the same time.
While Gigi's picture is professionally done -- it was taken by photographer Sante D'Orazio -- one can't help but notice the similarities between the two: the voluminous blonde hair, the six-pack abs... Clearly, Zayn has a type.
Need more evidence?
Perrie and Gigi are both fans of the deep statement lip.
Perrie and Gigi both love the sunglasses/hair-in-face selfie. Who doesn't?
And, of course, Perrie and Gigi know they look stunning at every angle, especially the front-facing shot.
I could keep going, but I think everyone here gets the picture. Zayn likes blondes, and both Perrie Edwards and Gigi Hadid have great hair, bodies and Instagrams.
Along with the newest bikini photo, Perrie Edwards has also been posting several other similar snaps that make me want to spend the next 256 hours at the gym.
All right, I'm done Instagram stalking.
It's gotten to the point where I can't distinguish between Perrie and Gigi. I'm sure that's happened once or twice to Zayn. Can we blame him?
Citations: Daily Mail