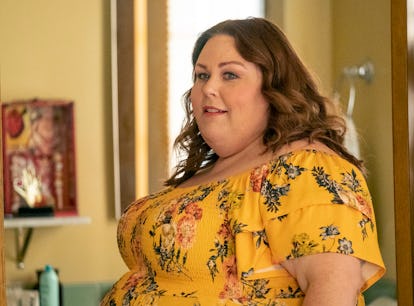 Let's Break Down All The Clues In The This Is Us Season 5 Finale Flash-Forward
There is so! much! to unpack.
Ron Batzdorff/NBC
Ever since Season 2, This Is Us has always ended its season finales with glimpses of the future. From small jumps ahead to the next season to large leaps decades in the future, the show always leaves fans with a taste of what's to come. The Season 5 finale was no exception, giving viewers a look at a brand-new spot on the timeline, with a five-year-jump from the present to 2026. Naturally, this Season 5 finale flash-forward scene is full of clues about what's to come in This Is Us' final season.
Warning: Major spoilers for the This Is Us Season 5 finale follow. Despite all signs pointing to Kevin's fairytale wedding day going off with only a tiny altar collapse, This Is Us shocked viewers by having Madison refuse to marry him. It was a heartbreak of a moment, but it was also the right choice for her. Madison knew that somewhere deep down, Kevin wasn't in love with her. Heck, Kevin knew it too, but he hoped, like Miguel and Rebecca, that it could happen for them in due time. It wasn't an unheard-of notion; the arranged marriage in which the spouses fall in love with each other after the fact is a romance genre staple. But Madison deserved better, and she knew it.
Her decision left the Pearson family a little shocked, but not devastated. They were together, and they would carry on that way into the future. And then, at the very end of the episode, the flash-forward came. And with it came tiny details to squeal over as well as big surprises.