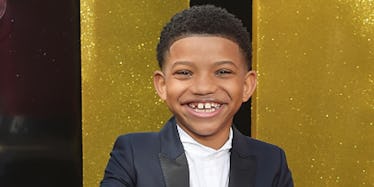 'This Is Us' Star Lonnie Chavis Reveals His Favorite Scene To Shoot -- EXCLUSIVE
Matt Winkelmeyer
This Is Us is the heart-wrenching, love-filled, touching saga your mom's been needing her entire life.
The show is equipt with a cast of talented actors and actresses including Mandy Moore and fan-favorite Milo Ventimiglia.
In addition to Moore and "the really attractive one with the mustache," as your mom probably refers to Ventimiglia as, the show features a cast of gifted kid actors who are undoubtedly responsible for making the show the success it is.
On Sunday, July 9, Elite Daily spoke with Lonnie Chavis, who plays young Randall on This Is Us, at the Marvel LIVE! red carpet at the Staples Center in Los Angeles, California.
Chavis, who is impossibly even more adorable in person than he is on screen, showed up to the event sporting a full face of Spider-Man face paint.
The 9-year-old actor revealed his favorite This Is Us scene he's shot during the first season of the break-out family drama,
Pilgrim Rick. That one was really funny and everybody gave it their all on that one. They just gave all the comedy on that one and it was just super funny.
As fans of the show know, the "Pilgrim Rick" episode Chavis is referring to is the heartwarming Thanksgiving special, the eighth episode of the first season, that aired this past November.
Additionally, Chavis gave us a rundown of his show-watching rituals.
I watch it with my entire family pretty much. Sometimes my extended family comes over and I watch it with my extended family too. Sometimes my best friend also comes over, so we both cry.
The biggest takeaway here: If you're not crying, you're not watching it right.
As announced Thursday, the NBC series raked in 11 Emmy nominations for this year's show including Outstanding Drama Series, Outstanding Lead Actor in a Drama Series (Sterling K. Brown), Outstanding Lead Actor in a Drama Series (Milo Ventimiglia), and Outstanding Supporting Actor in a Drama Series (Ron Cephas Jones).