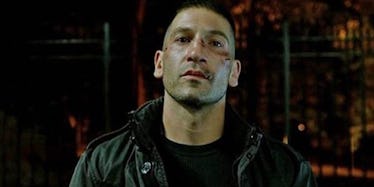 'The Punisher' Teaser Is Finally Here & It Will Be Marvel's Most Intense Series Yet
Netflix
If you love Netflix's original Marvel drama series like Daredevil, Jessica Jones, Luke Cage, Iron Fist, and The Defenders but wished they were even more dark and horrifying, then look no further than Netflix's upcoming sixth Marvel drama, The Punisher. We still don't have a premiere date for the series, despite promises that the show will hit Netflix in 2017 (you're running out of 2017 months there, Netflix!). But a new The Punisher Netflix teaser trailer did drop on the official Punisher Twitter on Monday, so that's something, I guess.
The teaser video is exactly thirty seconds long, and has a distinctly American Horror Story vibe to the entire thing. In it, 40-year-old actor Jon Bernthal embraces his role as Frank Castle, the lethal crime vigilante who we also saw in Netflix's Daredevil. The screen shutters and statics, and finally focuses on a handheld, Blair Witch Project -esque view of army men with rifles hunting down Frank Castle in the woods. Castle, in his hoodie, is clearly prepared for these men, though. One soldier gets stabbed by a deadly animal trap, and Castle leaps out to make sure the job is done himself. Another soldier screams in terror as Frank Castle sneaks up behind him and stabs his shoulder. Frank Castle then grabs the camera that apparently one of the soldiers was wearing and whispers threateningly into it, "I'm coming for you." Then he snaps the neck of the man with the camera, and we're hit with the Punisher logo: A jawless skull.
It's unclear who the "you" is that Frank Castle is coming for, but I'd certainly hate to be whoever that poor unlucky soul may be.
Though we've already met the Marvel Cinematic Universe version of The Punisher briefly in Daredevil, he was curiously absent from Marvel's recent summer series, The Defenders.  The character of Frank Castle/The Punisher was first introduced in the Marvel comics way back in 1974, in The Amazing Spider-Man issue #129. Like the Marvel character Deadpool, the Punisher has no qualms about hurting and killing people — specifically criminals. His wife and two children were killed by the mob in New York City's Central Park, and ever since Frank Castle has made it his mission to wage war on the New York mobsters and criminals, using any and all kinds of war weaponry. So he's not exactly a Captain America approved Avengers.
Monday's teaser is not the first glimpse fans have gotten at the newest New York City vigilante to join Daredevil, Jessica Jones, Luke Cage, and Iron Fist. Though Frank Castle didn't get to meet face to face with any of the Defenders this summer, fans did get a sneak peak at the upcoming Punisher series in a Defenders post-credits scene.
In this minute long teaser trailer, we saw Frank Castle up to a variety of punishing shenanigans — he smashes a picture of his family with a sledge hammer, he looks at a photo of his family, he smashes a wall with a sledge hammer, he takes the ferry to the Statue of Liberty, he smashes the ground with a sledge hammer, he plays the piano, he smashes cement with a sledge hammer, he gets in a fight with a man in army gear, he keeps smashing away with that sledgehammer, he kills a bunch of dudes, and finally, he drops the sledgehammer and we see his face.
While all of this is going on, Castle says in a voiceover,
All the things that I've done, memories, they never hurt me. But the past is more than memories. It's the devil you sold your soul to. He's coming. He's coming to collect.
Woof. Chills, right? The Punisher is expected to premiere on Netflix sometime later this year.