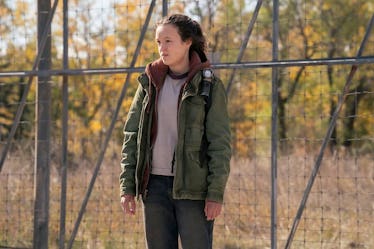 Ellie Is A Sass Queen In The New The Last Of Us Promo
Not a fan of coffee — noted.
Liane Hentscher/HBO
The Last Of Us' decision to set its story in the present day of 2023 but leave the Cordyceps infection's arrival in 2003 effectively eradicated the last 20 years of human history. It also altered 14-year-old Ellie's experience of the world, having never known the before times. In The Last Of Us Season 1, Episode 4 promo, the show has a bit of fun with that, even as the survival stakes are upped.
Warning: Spoilers for The Last Of Us Season 1, Episode 3 follow. Though the series has only just begun, The Last Of Us took a massive risk with Episode 3, "Long Long Time," by leaving Joel (Pedro Pascal) and Ellie (Bella Ramsey) on the sidelines. Instead, the bulk of the hour was set in the near past, covering the story of Bill (Nick Offerman) and Frank (Murray Bartlett), who until recently had spent the last two decades post-infection living together. When Joel and Ellie arrived in the game, Frank had passed away while Bill soldiered on. The series altered this story so that they were both already gone, unable to live without each other.
Turns out, Bill left behind a note for Joel, telling him to open his heart and let himself love and care for his companion, and that the pain of loss was worth the joy of feeling. Bill was talking about Tess (who did not survive Episode 2), but his note applied just as much to Ellie, who Joel struggles not to see as a surrogate daughter.
Ellie continues to be adorable in the new promo, but the danger of losing her still has Joel holding back.
The Last of Us Season 1, Episode 4 is titled "Please Hold My Hand." The title is significant, as it is a line from the chorus of Hank Williams' "Alone and Forsaken."
Alone and forsaken
By fate and by man
Oh, lord if you hear me
Please hold my hand
Oh, please understand.
Williams' song was used in The Last Of Us' official trailer, and viewers have been wondering if it will also be part of the show's soundtrack. The thematic tieback is too big to ignore, even if it doesn't play during Episode 4.
The promo for Episode 4 also seems to suggest the show will return to recreating memorable moments from the game after Episode 3 took a significant detour. The scene in the promo where Joel attempted to mow down a man begging for help, even as Ellie wanted to stop for him, comes directly from the game, as is the trap it sets off.
The Last of Us Season 1 continues with new episodes every Sunday at 9 p.m. ET on HBO and HBO Max.