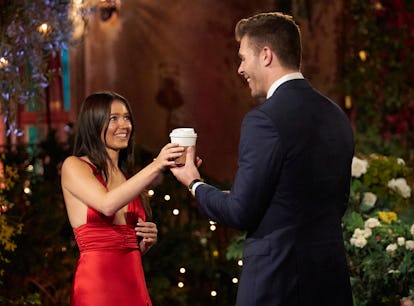 A Bachelor Frontrunner Apologized For Defending Blackface In The Past
Notes app apologies are basically Bachelor bonus content these days.
Season 27 of The Bachelor has only just begun, but one of this season's contestants has already issued an apology for something fans dug up about their past. On Jan. 24, the day after the Bachelor Season 27 premiere, Greer Blitzer issued a statement on Instagram apologizing for previous statements she made defending blackface. The spotlight was already on Greer after she became one of Bachelor Zach Shallcross' immediate frontrunners thanks to her First Impression Rose win. That spotlight became even brighter when Greer took to Instagram to address her previous comments about blackface. She wrote in an Instagram story:
"The journey to love is filled with lessons and these lessons are also made on our journey of growth. In my past, I have made some uneducated, ignorant and frankly, wrong comments on my social media accounts. In particular, I used misguided arguments on Twitter to defend a student who dressed in blackface as Tupac for Halloween. I am deeply sorry to those I have hurt, especially those within the Black community, not because these screenshots have resurfaced, but because I ever shared these harmful opinions at all. Time and age do not excuse my actions, but this is not a reflection of who I am today."
Greer's apology comes after a Reddit user resurfaced tweets in which she seemingly supported someone else who was being criticized for wearing blackface to a party.
Greer is far from the first in Bachelor Nation to be involved in allegations of racism or to issue an apology. Most recently, Gabby Windey's Final Rose winner Erich Schwer apologized for a photo of him in blackface, and Matt James' final pick Rachael Kirkconnell apologized for attending an Antebellum-themed party in the past. Greer is simply the latest in a long line of Bachelor Nation contestants who have brought the drama off-screen with apologies for previous behavior.
Zach has not addressed Greer's tweets nor her apology, but he did explain why he gave her his First Impression Rose. He told The Hollywood Reporter, "With Greer that night, she was able to make me feel comfortable and make me not feel like I'm just getting pulled in a million different directions, and it's overwhelming. With her, it was not so much. When I was thinking back to giving a first-impression rose, it was a really good first impression of, 'OK, I can relax. I can be calm near her,' which I really did appreciate."
Season 27 of The Bachelor airs Mondays at 8 p.m. ET on ABC.