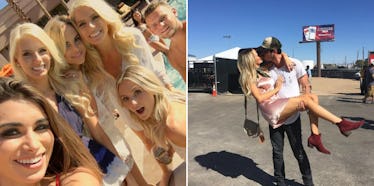 Ben Higgins And Lauren B Had Epic Bach Parties But Aren't Getting Married Yet
Instagram
Despite Ben Higgins and Lauren Bushnell getting engaged in March, the pair are apparently no closer to having a concrete wedding date now than they were back then.
That's OK, though, because even without having a wedding date, Ben and Lauren from "The Bachelor" just had epic bachelor and bachelorette parties in, yup, you guessed it, Vegas.
VEGAS, BABY!
According to ET, Ben and Lauren did it up proper on Thursday, celebrating with a few familiar faces from "The Bachelor."
Here's a shot taken by Ashely I at a pool at the MGM Grand. As you can see, Lauren Bushnell partied it up with Ashley I, Amanda, the twins and some sketchy dude who clearly thought he had a shot of getting lucky.
Yeah, the ladies of "The Bachelor" definitely looked ready to turn up as they headed out for the night in a luxurious limo.
Turn up team in the building, yup!
Honestly, though, how many selfies do you think Lauren Bushnell and her friends took at her bachelorette party?
Not to be outdone by his soon-to-be wife (we hope), Ben Higgins and his boys rode around Vegas in a tricked-out party bus.
Borrowing a page from Bushnell's book, Ben and the boys took the party to the pool at MGM Grand, too.
I mean, what's a bachelor party without endless rounds of pointless toasts, right? This one is definitely for "Higgy."
You know what almost always comes after pointless toasts? Yeah, obnoxious karaoke singing.
Ed Sheeran would be so proud of Ben Higgins and his bachelor party crew.
OK, back to Lauren, because she got the party going by wearing a wig and doing the whip and nae nae.
And, uh, not sure what you call this dance, but turn up, girl!
Now, I don't want to be a Debby downer, but despite having these epic bachelor and bachelorette parties, Ben and Lauren are reportedly in no rush to actually tie the knot.
In an interview with ET in September, Bushnell said,
We haven't set a date. We are really trying to figure out what's best for us because our lives have been really going 100 miles per hour. Hopefully next year.
Honestly, this wedding is probably going to be the event of the century, so why not let the anticipation build?
Citations: Ben Higgins and Lauren Bushnell Celebrate Their Bachelor and Bachelorette Parties in Las Vegas – See the Pics! (Entertainment Tonight)