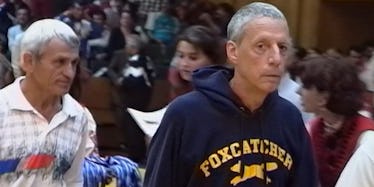 'Team Foxcatcher' Is Netflix's Newest Disturbing True-Crime Original
Netflix
The robot algorithms in the Netflix account don't have to work that hard to figure out what I'm into -- like 90 percent of what I watch are episodes of cult TV shows and true-crime documentaries. So naturally, they sent me an email to give me a heads-up when they released their latest creepy true-crime story on Friday.
NOT THAT THEY NEEDED TO. I'd been looking forward to seeing "Team Foxcatcher," the real story behind the the Oscar-nominated film in which Steve Carrell played John du Pont, millionaire murderer and general creepo, since it premiered at the Tribeca Film Festival, home of the juicy true-crime documentary. (See: my coverage of the San Antonio Four in "Southwest of Salem.")
The documentary uses tons of never-before-seen home footage to tell the story of du Pont's descent into madness that eventually resulted in the murder of Olympic wrestler Dave Schultz, who was working and living on his Pennsylvania estate as part of "Team Foxcatcher," a group of wrestlers that du Pont sponsored, trained with and attempted to befriend, in what come across as the sad actions of a very lonely man on the edge of sanity.
The true story has plenty to offer even if you've seen the film. After watching footage of the blank-eyed, Robert Durst-ian du Pont, I started to feel like Carrell actually underplayed the character's creepiness. His strange, space-y affect, mixed with a violent paranoia that include a belief in underground tunnels and mechanical trees on his property is so chilling that you'll find it hard to believe anyone stayed in the situation, much less Dave Schultz, who had his wife and two young children living with him.
Perhaps that's why they took some liberties with the movie, in which Channing Tatum, playing Dave Schultz's brother Mark, is the driving force behind his residence at Foxcatcher. In reality, the two were never at the farm at the same time, with Mark spending only about a year on Team Foxcatcher and leaving before Dave's arrival.
As du Pont's considerable-from-the-start insanity starts to escalate -- partly because of his abuse of cocaine -- we viewers from the future find ourselves squinting at the screen and wanting to scream, "GET THE F*CK OUT OF THERE! IT'S NOT SAFE!" But Dave remains du Pont's main friend and ally, even convincing wrestling officials not to cut ties with him after he pulls a gun on a fellow wrestler.
In the end, the documentary ends the same way as the real-life story and the Hollywood film, of course -- with a brutal, seemingly motive-less murder. Interviews with Schultz's wife, teammates, fellow trainers, and others who were there at the time illustrate this riveting tale of a mentally ill man with lots of money who was able to essentially buy himself a sport and a group of employees who would excuse his increasingly unhinged behavior in the name of becoming champions.
In the end, despite receiving a handsome salary to live and work on the du Pont estate, Dave Schultz paid the ultimate price with his life. "Team Foxcatcher" is now streaming on Netflix.