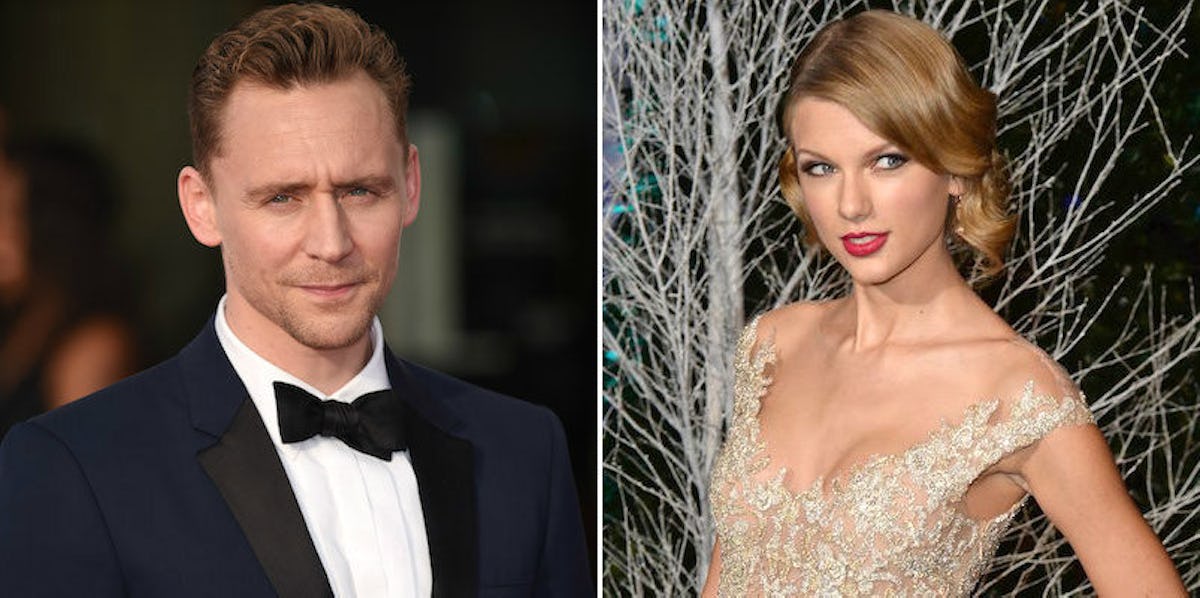 Taylor Swift And Tom Hiddleston Should Use This Playlist At Their Wedding
REX/Shutterstock
Apparently Taylor Swift and Tom Hiddleston's love is forever, which subsequently means we will all be hearing about Hiddleswift forever.
Yaaaaaay.
Tom Hiddleston is reportedly not at all turned off by his girlfriend's recent controversy with Kim Kardashian.
In fact, the couple were just seen out and about for the first time since Kimye-gate.
Actually, it sounds like Tom's thinking of marrying Taylor someday.
A source told E! News,
Taylor and Tom are in love with each other. He told her she is the kind of woman he wants to spend his life with. They have gotten very close. She is enjoying the time off from working. She has been writing during her travels, and Tom has been an inspiration in her music.
Well, that's convenient, since almost a month ago a source reported Taylor thought Tom was "the one."
Sooooo I guess we're getting a Hiddleswift wedding!
Even if neither of them mean what they say about this life-long relationship thing, I wouldn't put it past Taylor's people to stage a proposal just to move past this Kim Kardashian feud.
The point is, the odds are good this wedding will happen someday.
And when it does, I hope Taylor and Tom will take this wedding playlist I made for them into consideration.
NOTE: This playlist is not available on Spotify because Taylor Swift is not on Spotify. Blame her!
1. "Love Story" by Taylor Swift
I think it's safe to assume Taylor Swift would play at LEAST five of her own songs at her wedding, if not more, and then charge all her guest royalties for listening to them. "Love Story" is an obvious choice.
2." Shake It Off" by Taylor Swift
I have no doubt there will be many Hiddleswift haters when their engagement is announced. Therefore, "Shake It Off" is a must.
3. "Hands To Myself" by Selena Gomez
Selena will probably be maid of honor, so she definitely needs to be on here.
4. "Single Ladies" by Beyoncé
This has less to do with Taylor and Tom and more to do with the fact you basically have to play "Single Ladies" at any wedding so that all the single ladies have something to cry/dance to.
5. "What Makes You Beautiful" by One Direction
I think Tay and Tom should play this song purely for the purpose of making everyone else at the reception feel awkward about her past relationship with Harry Styles.
6. "Hero" by Enrique Iglesias
Because Tom was in "The Avengers." Get it? GET IT?
7. "Tim McGraw" by Taylor Swift
C'mon, Tay's gotta take it back to where it all began so she can reminisce about how far she's come.
8. "Royals" by Lorde
Lorde is one of the few musicians left in Taylor's squad who she hasn't pissed off yet, so might as well add her to the playlist.
9. "Still Into You" by Paramore
Ditto that with Hayley Williams.
10. "Respect" by Aretha Franklin
Taylor needs to play this message of respect as a pointed prelude to the final song on this list, which is...
11. "Famous" by Kanye West
By the time this wedding actually happens, Taylor will probably have moved into her "pretending she can laugh at herself" phase of this whole Kimye feud. Therefore, there is only one song that could possibly close out the night.
Congrats on your hypothetical wedding, Hiddleswift!
Citations: Tom Hiddleston 'tells Taylor Swift he wants to spend the rest of his life with her'... as pals reveal he's been 'an inspiration' for the singer's music (Daily Mail)