Can't stop, won't stop movin'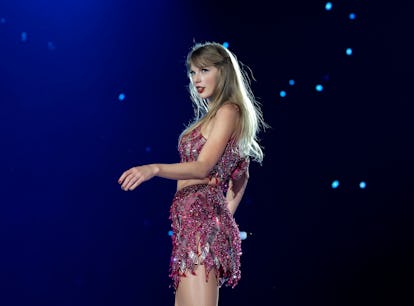 Swifties Are Feeling Unwell Over This Subtle Change To "Shake It Off"
Kevin Winter/Getty Images Entertainment/Getty Images
Taylor Swift has been performing "Shake It Off" at every single show of the Eras Tour, singing the throwback single in front of thousands of fans. Throughout each performance, she's stuck pretty close to the original track, which she first released in 2014. So, it didn't seem like there would be any "Shake It Off" surprises in store for 1989 (Taylor's Version) — but Swift managed to pull off some anyway.
In "Shake It Off (Taylor's Version)," released on Oct. 27, Swift made quite a few updates to the award-winning song — including some moments of laughter. In the first verse, she added a chuckle after the line, "I go on too many dates." There's another moment of laughter around the bridge, while Swift sings, "My ex-man brought his new girlfriend / She's like, 'Oh my God!' but I'm just gonna shake." (Specifically, the laugh is right after "Oh my God!")
The update to the song was so subtle that fans weren't even sure if the laughter was a new addition. "Was that shake it off laugh always there[?]" one fan tweeted. Another wrote, "was the little laugh in shake it off always there because idk its making me twirl my hair and kick my feet."
Once they realized it was, in fact, a new addition, fans were ready to celebrate it. "THE LAUGH IN SHAKE IT OFF!!! I WAS GAGGED😭."
But laughter wasn't the only change Swifties noticed in "Shake It Off." There are also some high-pitched clicking sounds in the track that weren't in the original version. "am i going insane or am i hearing clicking sounds in shake it off," one fan questioned on Twitter. "YES I THOUGHT MY BRAIN WAS GLITCHING," another fan replied.
Taylor's version of the song also has some loud echoes that were missing from the original release. "WHAT ARE THISE ECHO YELLING NOISES IN THE BRIDGE OF SHAKE IT OFF OMG," one fan questioned the new sound.
"Shake It Off" might have a laughter-filled, sick beat now, but the track has a complicated history. In 2017, Swift was sued for allegedly plagiarizing the lyrics, "Players gonna play, play, play, play, play / And the haters gonna hate, hate, hate, hate, hate (haters gonna hate)."
Songwriters Sean Hall and Nathan Butler, who wrote the 2001 song "Playas Gon' Play" by 3LW, alleged that Swift copied their lyrics: "Playas, they gonna play / And haters, they gonna hate."
Per NPR, Swift defended herself, explaining she'd never listened to "Playas Gon' Play." She said, "In writing the lyrics, I drew partly on experiences in my life and, in particular, unrelenting public scrutiny of my personal life, 'clickbait' reporting, public manipulation, and other forms of negative personal criticism which I learned I just needed to shake off and focus on my music."
The copyright lawsuit, which was eventually settled in December 2022, would have delayed Swift's ability to re-record and re-release 1989. But for Swifties who are celebrating the re-record, the song was worth the wait.