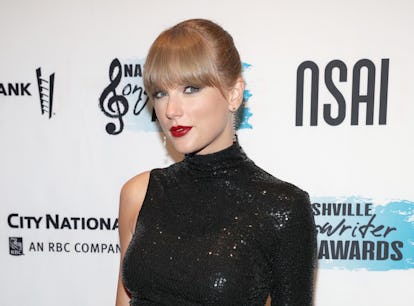 18 Unforgettable Taylor Swift Lyrics About Self-Worth
Terry Wyatt/Getty Images Entertainment/Getty Images
Taylor Swift packs a lot of life lessons in her lyrics. Since releasing her debut album in October 2006, she's been penning personal tracks about breakups, make-ups, growing up, and navigating fame. The most important takeaway of all from Swift's songs? How to be a confident queen. And these Taylor Swift lyrics about self-worth are important life lessons.
Early on in her career, Swift became known for penning breakup bops. Often, they were heartbreak-fueled ballads that were filled with moments of self-loathing. But even in those songs, there were glimmers of strength, and as her career progressed, her music became more and more empowering. So many of Swift's songs include important messages about self-worth, especially some new tracks from Midnights — like "Vigilante Sh*t" and "Bejeweled" — that can give you the confidence to take over the world.
There's no denying Swift has a way with words. It's the reason so many fans get them tattooed or use them for Instagram captions. And when it's time to walk out the door or take a stand and demand more, she's got a song for that. These Taylor Swift lyrics will have you ready to recognize your self-worth and remind you how to step into your baddie energy.
"Sometimes walking out is the one thing, That will find you the right thing/You know, when it's time to go" — "It's Time To Go"
"You don't have to call anymore/I won't pick up the phone/This is the last straw/Don't wanna hurt anymore" — "You're Not Sorry"
"I got smarter, I got harder in the nick of time" — "Look What You Made Me Do"
"This time, I'm telling you, I'm telling you, We are never ever, ever getting back together" — "We Are Never Ever Getting Back Together"
"You're beautiful, Every little piece, love, don't you know? You're really gonna be someone" — "Stay Beautiful"
"You're all I want but it's not enough this time" — "Bye Bye Baby"
"Don't you smile at me and ask me how I've been/Don't you say you've missed me if you don't want me again" — "Don't You"
"Because these things will change/Can you feel it now?" — "Change"
"Something happened one magical night/I forgot that you existed" — "I Forgot That You Existed"
"This is the last time I say it's been you all along/This is the last time I let you in my door" — "The Last Time"
"Someday, I'll be big enough so you can't hit me" — "Mean"
"I'm shining like fireworks over your sad, empty town" — "Dear John"
"In your life you'll do things greater than dating the boy on the football team" — "Fifteen"
"Back then I swore I was gonna marry him someday/But I realized some bigger dreams of mine" — "Fifteen"
"Seems the only one who doesn't see your beauty/Is the face in the mirror looking back at you" — "Tied Together With A Smile"
"Everything you lose is a step you take/So, make the friendship bracelets, take the moment and taste it." — "You're On Your Own, Kid"
"And I don't dress for villains/Or for innocents/I'm on my vigilante sh*t again." — "Vigilante Sh*t"
"Best believe I'm still bejeweled/When I walk in the room/I can still make the whole place shimmer." — Bejeweled
This article was originally published on