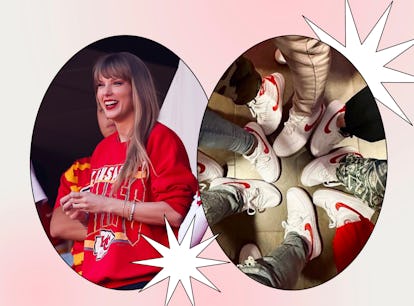 Taylor Swift's Game Day Sneakers Might Have A Secret Meaning
This is very Cinderella-coded.
Taylor Swift is in her WAG era, y'all. The Midnights singer has become a regular at Travis Kelce's NFL games — and now, she's got the kicks to prove it. ICYMI, Swift attended Kelce's game on Oct. 22 at Arrowhead Stadium. First, she was spotted wearing a pair of high-heeled loafers. But later in the day, she switched into a pair of Nike Air Force 1 sneakers, which were reportedly customized by Kelce and his teammates.
On Oct. 24, a tweet about Swift's shoe choice went viral. In it, an anonymous source claimed, "Travis and his friends love doing customized shoes and clothing for their girlfriends and wives. They do it constantly." BTW, the sneakers in question were in the Chiefs' team colors of red and white.
Of course, this isn't the first time Swift has been photographed repping Kelce's team. She's been sporting Chiefs merch every time she goes to Arrowhead Stadium to watch Kelce play. (Though she hasn't worn his jersey yet, just his number on her wrist.)
Still, the shoes hold special significance, according to this rumor. Apparently, they indicate that Swift and Kelce's relationship is getting serious. "Shoes & the pic [of Swift sporting them] basically confirm that she's his actual girlfriend for the doubters. They don't give anybody else those shoes," the insider claimed.
They continued, "You'll probably see all of them wearing a different customized set when the Chiefs get to the playoffs." JSYK, Kelce's teammate Patrick Mahomes' wife Brittany Mahomes (who also happens to be the newest member of Swift's squad) has been photographed wearing similar Chiefs-themed sneakers.
Per Page Six, Kelce's friend and former Chiefs player Ross Travis added fuel to this theory. Following the Oct. 22 game, he shared a photo on Instagram of several people at the game wearing the matching, customized shoe. So, it's apparently not *only* girlfriends and wives who get a pair.
But fans are convinced that the shoe choice means Traylor is official. "Staaaaaaap!!! Why are they so cuteeeee," one fan wrote on Twitter. Another responded to the sneaker theory on TikTok, "im so obsessed with their relationship, biggest supporter fr."
Rumors about Swift and Kelce's relationship status aren't solely based on shoes, though. Only three days before Swift's latest NFL appearance (and her red and white sneaker debut), a source told Entertainment Tonight that things were getting "very serious" between the two.
"Travis and Taylor are all in," the insider told ET. "The two are very into each other and are enjoying their time together but are also planning for the future. Taylor starts her international tour in November, and Travis is planning to be there to spend time with her."
So maybe the sneakers are the WAG-approved way of defining the relationship.