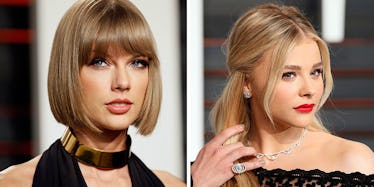 Chloë Grace Moretz Says She Was Invited To Join Taylor Swift's Girl Squad
REUTERS/Danny Moloshok
Ever since Taylor Swift released her "Bad Blood" music video, the world has been obsessed with the concept of squads and, more specifically, how to join Taylor's.
The 26-year-old singer handpicked the women to star in the video, including Selena Gomez, Cara Delevingne, Hailee Steinfeld, Karlie Kloss and Gigi Hadid.
Several celebrities commented on Taylor's squad, either wishing to be a part of it or choosing to battle against it by creating their own. *Cough* Ellen. *Cough* Adele. *COUGH* TINA FEY AND AMY POEHLER.
Well, it looks like Taylor's squad isn't as exclusive as we all thought. She apparently wanted to add another member to it.
According to a recent Complex interview with Chloë Grace Moretz, the 19-year-old actress admitted Taylor asked her to join the squad.
YO, CHLO, WELCOME TO THE CREW.
Here's what went down. Chloë is pretty tight with Selena Gomez, who we all know is BFFs with Taylor. Well, Complex talked to Moretz about her relationship with Taylor because of their mutual friendship with Selena.
When asked if Taylor invited Chloë to join her squad, Moretz responded "yes." Instead of going into detail, Moretz simply added,
She's a very talented person.
Interesting. In an earlier portion of the interview, Moretz did comment on squads in general. She said,
They appropriate exclusivity. They're cliques!
Hmmm, does this mean Moretz rejected Taylor's offer? Is she anti-squad? I guess we'll never know for sure.
Either way, I'm happy to take Chloë's place if you need someone, Tay. Just let me know!
Citations: CATCH ME IF YOU CAN (Complex)