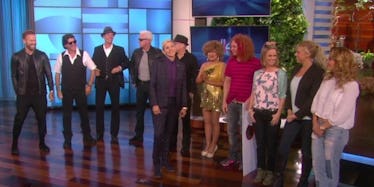 Sorry, Taylor Swift: Ellen's Crew Is Here To Take Over #SquadGoals (Video)
Taylor, you better watch out. There's a new queen in town and her name is Ellen DeGeneres.
You see, Ellen didn't exactly get the invite to join Taylor's crew. But whatever, it's cool.
She took matters into her own hands and found the best of the best to create her own squad. You hear that, Tay? She doesn't need you. Ellen found a squad that's WAY cooler.
She has a bartender, a choreographer, someone to help her maintain her slim figure... She even found someone who gets more naked than Lena Dunham (and that's hard to find!).
Oh, and apparently Selena Gomez even switched squads.
You can check out all the members of Ellen's squad in the video above. It looks like there's new "bad blood" in town. Sh*t's about to go down.