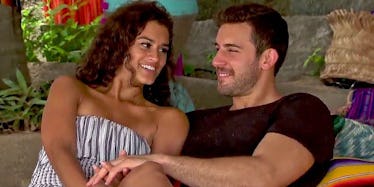 Taylor & Derek Got Engaged At The 'BIP' Reunion & It Was So So Romantic
ABC
There's no doubt this was one of the most calamitous seasons of Bachelor in Paradise ever, but despite temporary production shutdowns and confusing allegations of misconduct leading to Corinne and DeMario's early departure from the show, the strange season actually did manage to produce at least one lasting relationship. Through all the drama, Taylor Nolan and Derek Peth's relationship remained the only constant. So it was really no surprise when Derek proposed to Taylor during the Bachelor in Paradise finale on Monday night.
As many fans were expecting, Derek and Taylor made things official during Monday's Bachelor in Paradise finale, when he got on one knee during the reunion show to propose to Taylor. The predicted proposal may not have had the element of surprise, but it still proved to be incredibly romantic, and it really does seem like Taylor and Derek found something special. I mean, it really is usually the boring couples that make it in the end — it's usually a good sign if your relationship doesn't make for good TV. But of course, the stable relationship meant everyone who's been watching this season of Bachelor in Paradise totally saw the proposal coming. In fact, People was already reporting on the engagement ring Derek had bought for Taylor on Monday morning, ahead of the finale's airing.
Although we saw the grand romantic gesture coming from a mile away, it was still one of the highlights of the BiP finale. When Chris Harrison sat down with Derek and Taylor at the end of the reunion show, it was very clear the couple was in love, as they smiled and joked together before the big moment. At the end of the show, Derek surprised Taylor with a proposal, which brought all of the audience to their feet with cheers. While crying, Taylor accepted the proposal, securing herself and Derek as the only engaged couple to come out of this crazy season of Paradise.
As a reminder, Derek Peth was in the final eight on JoJo Fletcher's season of The Bachelorette last year, and Taylor Nolan made it about halfway through Nick Viall's season of The Bachelor earlier this year. Before all that scandal took over, one of the big things fans were expecting from this season of Bachelor in Paradise was a blow-up between Taylor and Corinne Olympios, who butted heads throughout Nick's season of The Bachelor. Of course, due to Corinne's involvement with DeMario, both controversial contestants wound up leaving the show before anything could even come up between Corinne and Taylor. With that drama potential written off unexpectedly early, Taylor was free to soak in the sun and relax with Derek while everyone else fought and scurried around the beach trying to find someone to get a rose from.
But it wasn't all smooth sailing for the couple on Paradise. Taylor and Derek did get into one brief spat a couple weeks back when Derek didn't take the concerns Taylor was voicing about their relationship very well. When she criticized how Derek responds to conflict, he defensively responded with an expletive, saying "F— you." Taylor said that kind of language is triggering to her in a relationship. The two were able to quickly talk through the issues and get their relationship back on track after the little fight, though.
In past seasons of Bachelor in Paradise, two or three couples could normally get engaged in the finale, but this wound up being the first season to produce only one engaged couple. Although Raven and Adam did also get a happy ending with one another, they are still taking things slowly as boyfriend and girlfriend. Who knows — maybe in a few months this season really will have produced two engagements.