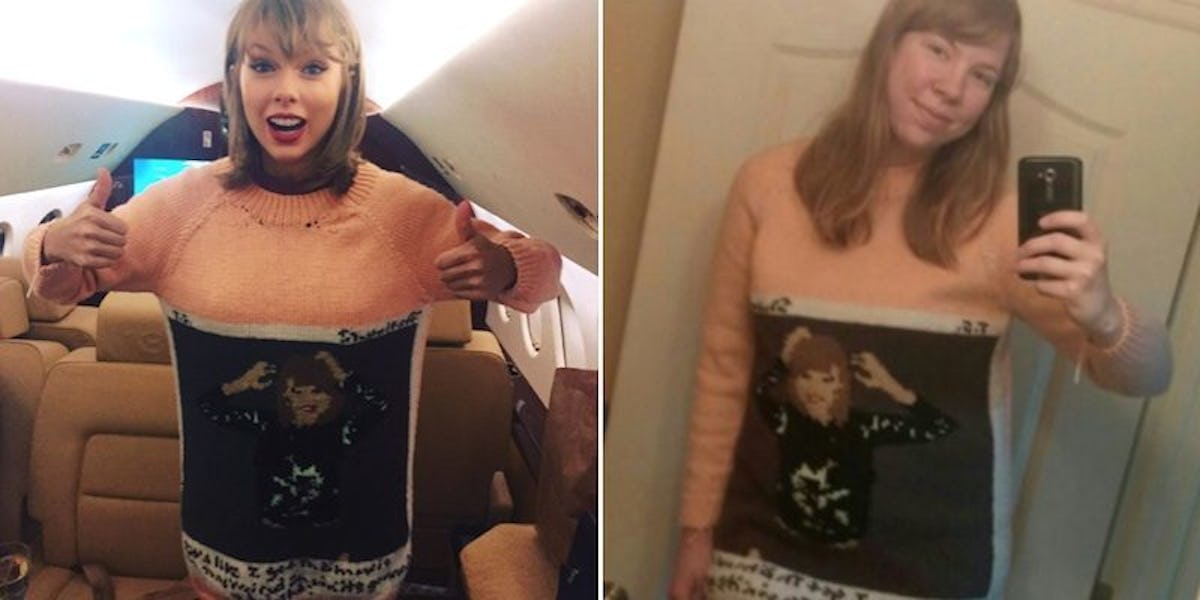 Someone Knitted A Sweater For Taylor Swift And She Absolutely Loved It
It looks like now Taylor has baaaaaaaaaaad blood! Like a lamb.
Like wool from a lamb. OK, FINE, it's a stretch, but YOU try coming up with a Taylor Swift-sweater pun. Yeah, difficult, right?
Actual music and league of super best friends aside, Taylor Swift has become known for the incredibly personal relationship she has with her fans.
She frequently sends out gift packages to Swifties, randomly donates boatloads of money to their crowdfunding campaigns and even welcomes the opportunity to become a guest of honor at their weddings.
Sometimes, though, fans like to pay Swift back for everything she is to them by giving her something even more valuable than money, time and turning her into a modern-day deity whose power transcends entire industry-leading corporations.
Look at this cute fan-made 1989 sweater!
As the caption above shows, the actual sweater "Giftie" (like "Swiftie") -- there's your stupid Taylor Swift pun, you monsters -- was originally a mystery to Taylor.
A post on Tumblr revealed the knitter was a woman named Jadda from Colorado who had been working on the project for about eight months.
Jadda told BuzzFeed News,
I was attending the show with my boyfriend that night and he actually motioned for [Taylor's mom] to come over to us. She did and I said hi and told her that I had a sweater and a letter for Taylor and handed them to her. Then I asked if I could have a hug and if we could take a picture. She said yes. And we took the photo.
When Swift tracked down the fan, she posted the following to her Tumblr page.
For real, though, I would pay $17,000 for this sweater. Someone make me one.
Citations: See Taylor Swifts Fan Made Sweater of a 1989 Polaroid Selfie (Billboard)