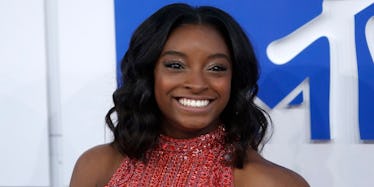 Simone Biles DGAF About 'The Bachelor,' So 'DWTS' Might Get Awkward
REUTERS
Simone Biles is a busy woman nowadays.
You'd think the 19-year-old gymnast would take a breather after winning four gold medals at the 2016 Olympics in Rio, but she's just getting revved up.
The only difference is she's gearing up for the dance floor in preparation for Season 24 of "Dancing With the Stars," where she'll be competing against "Bachelor" heartthrob, Nick Viall.
Luckily, I had the chance to talk with Simone so I asked her if she's just as obsessed with "The Bachelor" as we are.
Judging from her response, it looks like dance floor might get a little awkward this year.
Elite Daily asked Biles if she watches "The Bachelor," and she responded, saying,
I've never watched a season or an episode in my life. 
(OOF. Sorry, Nick.)
I guess when you're a gold-medal olympian, there isn't much time in your schedule to kick back and watch a two-hour episode of a viral dating series, and we get it.
It's OK, though. I'm sure Nick won't take it to heart if Simone doesn't gush over him like all the women who have watched the show.
Regardless of her "Bachelor" oblivion, Simone seems stoked to be featured on the dancing show and talked about the beginning stages she's gone through as of Friday, March 3.
She said,
I'm really excited about it. The first rehearsal was yesterday, and I'm really sore today — but it's fun. 
WOO! We're excited for you, Simone!
If her dance moves are anything like Laurie Hernandez's, she's bound to tear up the dance floor.
Speaking of Laurie, I asked Simone if she still keeps in touch with the Final Five, and her answer will give you serious friendship goals.
She said,
Yes, we still keep in touch. We still try to get together whenever we can because we still do events together. I just saw Laurie. She surprised me on "Good Morning America" the other day so, that was super exciting. 
It's true, with schedules as busy as these girls', finding time to hang out with a friend (or watching "The Bachelor") might be a little difficult.
Biles' most recent endeavor consuming most of her time is an admirable one.
The gymnast is currently teaming up with Kellogg's and No Kid Hungry for a #BucketsForBreakfast challenge which will help raise money and awareness to end child hunger. 
When explaining the challenge, she said,
Buckets For Breakfast is mainly trying to introduce and encourage the kids to just do their trick shots on and off the court and then put it on social media so the word gets across. 
She continued,
Breakfast is the most important part of any kids' days and right here in Houston were trying to just encourage them to eat breakfast and start off their day right. 
Biles encourages her fans to participate in the challenge, post a video to social media and use the hashtag #BucketsForBreakfast to spread the word about child hunger.
So, there you have it.
On top of dancing, rehearsing and finding downtime for friends, Simone is actively working in a charitable organization in effort to raise awareness for child hunger.
She's basically Superwoman, and we can't wait to watch her groove on the dance floor of "Dancing With the Stars."
The next season begins on Monday, March 20.