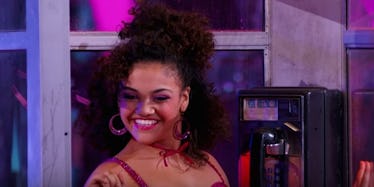 Laurie Hernandez's Flawless 'DWTS' Routine Got Season's First Perfect Score
ABC
We don't deserve Laurie Hernandez -- dancing her heart out on "Dancing With The Stars" and making all our predictions a reality -- but guess what? We have her and our smug validation.
From her first week in the competition, Laurie proved her skills as an Olympic athlete translate flawlessly onto the stage.
This week, the 16-year-old essentially channeled the ghost of Michael Jackson, which sounds truly horrifying but resulted in a routine that earned Laurie and partner Val Chmerkovskiy a perfect score.
For Cirque du Soleil week, the Final Five member drew from Jackson's catalogue and Cirque's "Michael Jackson ONE" with a dance to "The Way You Make Me Feel."
The number looked like more of a solo for Laurie, with Val and fellow male dancers jumping around sweaty and, eventually, half-shirtless in her wake.
She had only three days to train with Val due to a hectic schedule that took her to Washington, DC (read: meeting freaking Obama and taking over the official Instagram of the White House), but Laurie's performance was so perfect it'll make you wonder if you've actually ever moved your legs correctly once in your entire life.
The judges agreed and awarded the duo three 10s, the first perfect score of the season.
Following the judgement, Laurie told ET,
I was so surprised because we hadn't gotten a '9' yet, and so I was just like, 'Wow, we might get our first '9's today!' And then they went '10,' '10,' '10,' and I was just like, 'Aaaahhh!!!'
Fans, who were not as shocked Team Valaur earned perfect scores across the board, congratulated the pair on Twitter.
With an ultimate victory already in reach for Laur, we can finally set our sights on what's next: Perhaps a reality show where Laurie tries a new career every week and, without fail, ends up being the best in her field every single episode. It's called "Just Let Laurie Do It, OK?" and it's happening. It has to.
Citations: Laurie Hernandez Nails Epic Michael Jackson Routine on 'DWTS,' Earns Season's First Perfect Score (ET)