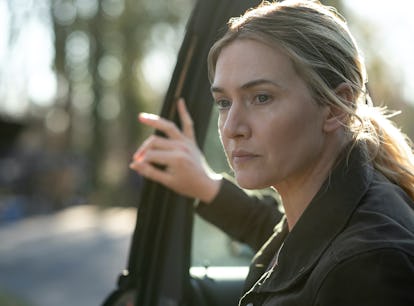 Missing Mare? Here's What To Watch Next
For those who need more Law and Wooder.
Michele K. Short/HBO
From early Dragnet episodes to Agatha Christie and Sherlock Holmes adaptations, mystery shows and police procedurals are two of the oldest forms of TV. HBO tapped into that popularity by crossing the genre with the new form of prestige TV, first with True Detective and now with Mare of Easttown. The finale of the latter was so popular it crashed the HBO Max app, the first time a non-Game of Thrones show could claim the honor. But now that Erin's killer has been revealed, what should you watch next? Luckily, there are plenty of shows like Mare Of Easttown that will fill that Mare-sized hole in your heart.
Most lists of this type would kick off with what seems the most obvious choice: HBO's True Detective. But although the two are alike in form — hiring Academy Award-winning actors to play small-town detectives in particular regional areas — Mare is wholly different. True Detective was a meditation on manhood and masculinity, both toxic and non. Mare of Easttown was about the women in these communities, from Mare and Lori's relationship to Mare's daughter Siobhan's warring desire to stay close and yet escape. Even the cases Mare took on were all about how women are taken advantage of and abused, from the disappearances of Katie and Missy to the secret paternity of Erin's baby, DJ.
When trying to fill the void Mare has left behind, fans' best bet is to dig into shows that feature women detectives and their struggles to hold together their communities. Here are some that do just that: