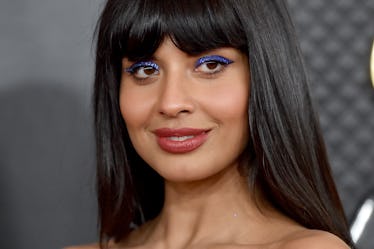 Jameela Jamil Will Star In Disney+'s She-Hulk
She will reportedly play a villain on the show.
Axelle/Bauer-Griffin/FilmMagic/Getty Images
So far, the Disney+ TV series lineup for Marvel has included projects like The Falcon & The Winter Soldier and Loki — in short, TV shows about characters fans already knew, played by actors they already recognized in the roles. But Marvel's plans extend beyond sticking to what audiences already know. Along with shows like Hawkeye, which will introduce new superheroes, three more shows are coming that will star characters fans haven't met yet, all of whom have the potential to cross over into the films: Ms. Marvel, She-Hulk, and Moon Knight. Here are all the details about She-Hulk Season 1, including the latest casting details:
Fans of the Marvel Cinematic Universe know the Hulk's origin story, in which he was exposed to gamma rays that make him "Hulk out" when angry. She-Hulk is Bruce Banner's cousin, Jennifer Susan Walters. She's a New York lawyer, a hard-nosed, deeply intelligent, take-no-crap kinda gal. But when she is hit by a car, her life nearly ends.
Hearing Walters needs a blood transfusion, her cousin Bruce rushes to the hospital to donate to her, hoping the gamma-ray mutations won't transfer as well. Unfortunately, they do. But Walters, unlike Banner, does not go full Hulk, since her exposure is third-hand. Instead, her transformations are less severe, more controlled. She keeps most of her personality while also imbued with the ability to help save the world. But her ability to control her own transformations doesn't mean she won't face villains popping out of the woodwork.