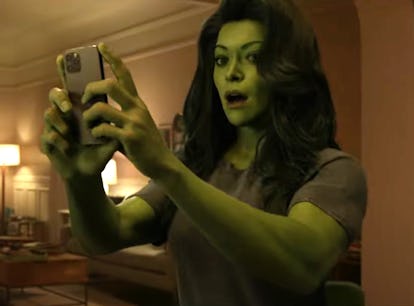 Everything To Know About She-Hulk So Far
The series moved its release date, but not by too much.
Marvel Studios
Marvel's Phase 4 on Disney+ started somewhat safely, with shows about characters who fans already knew and whose stories easily tied back to the franchise's hit big-screen adventures. But with Moon Knight, Marvel began taking risks with unknown characters. With Ms. Marvel, it began branching out into shows that were aimed at younger viewers. With She-Hulk: Attorney at Law, Disney+ is going in a new direction yet again: comedy.
Fans of the Marvel Cinematic Universe know the Hulk's origin story, in which he was exposed to gamma rays that make him "Hulk out" when angry. She-Hulk is Bruce Banner's cousin, Jennifer Susan Walters. She's a New York lawyer, a hard-nosed, deeply intelligent, take-no-crap kinda gal.
In the comics, when she is hit by a car, her life nearly ends, and Bruce, hearing Walters needs a blood transfusion, donates to her, hoping the gamma-ray mutations won't transfer as well. Unfortunately, they do.
How much the show plans to stick to that origin story remains to be seen. Here's what is known about the series so far.
Most of the Marvel Cinematic Universe is available to stream on Disney+, except for The Incredible Hulk, available via Starz, and the Spider-Man films, which are available on HBO Max, and as an Amazon rental. Doctor Strange in the Multiverse of Madness and Thor: Love and Thunder are playing in theaters now.
We may receive a portion of sales from products purchased from this article, which was written by our Editorial team.
This article was originally published on