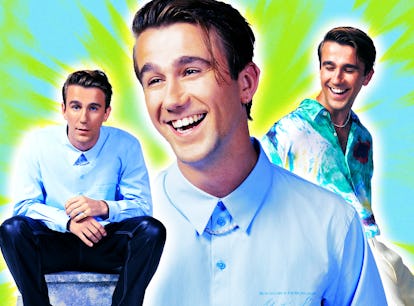 You're Probably Dancing To An SG Lewis Song Right Now
The mastermind behind Dua Lipa's "Hallucinate" and Mabel's "Let Them Know" is ready to get a little selfish.
Lindsay Hattrick/Elite Daily; Lauretta Suter
SG Lewis is in demand. In the past few years, the multitalented musician has collaborated with everyone from Dua Lipa to Elton John and Robyn. Now based in Los Angeles, the U.K.-born DJ-singer-songwriter-producer extraordinaire is surrounded by a who's who of pop. You name them, he's probably produced, remixed, sang, and/or performed right alongside 'em.
After making his studio album debut with 2021's times, a superstar-filled, disco-drenched burst of euphoria that served as a shimmering, space-age escape amid the pandemic, the "Chemicals" hit-maker is back with his highly anticipated follow-up, AudioLust & HigherLove, out now. SG's second set is split between two worlds: AudioLust, which explores the lustier side of love, and HigherLove, which navigates deeper feelings.
The record sees SG doing what he does best: creating feel-good dance floor fillers with industry titans and rising stars alike, from "Vibe Like This" with Ty Dolla $ign and Lucky Daye to "Call On Me" with Tove Lo, not to mention "Fever Dreamer" with Charlotte Day Wilson and Channel Tres. And this time around, he gets more indulgent.
Beyond AudioLust & HigherLove, SG is booked and busy. He produced an official remix of the Bee Gees classic "More Than a Woman" last summer, as well as a remix of Whitney Houston's "I'm Every Woman" for the soundtrack of I Wanna Dance With Somebody last month. Icons are his fans, too. After sliding into his DMs, Sir Elton John invited SG onto his radio show Rocket Hour, which led to a studio session and their song collab, "Orbit." He's also got a European tour on the way this spring, plus a performing slot at Coachella 2023. SG's never been more poised for pop superstardom. If only he could set his imposter syndrome aside.
Below, SG chats about his newest record, his artistry, and why Nelly Furtado fans should get excited.
This interview has been edited and condensed for clarity.
Elite Daily: Your 2021 album times is similar to records that brought hope and escape during lockdown. You were involved in several of them, like Dua Lipa's Future Nostalgia and Jessie Ware's What's Your Pleasure? What's different between times and AudioLust & HigherLove?
SG: The last album was very much an album about everyone else, and for everyone else. This album is much more introspective and selfish in many ways, partly in terms of the isolation of lockdown. It was me reflecting on love and relationships, and the way that I, and other people, approached them in the past, categorizing them into these two approaches. And using that time to explore myself as a singer-songwriter, as well as a producer.
ED: Using your own voice on the tracks is great. You sound even more assured.
SG: I released the last record [times] and over time, "Chemicals" became the most popular song. I worked with some of my favorite singers alive on the first record, and yet somehow, the one I sang on ended up being the most popular.
What that said to me was that it's not about how great your voice is, it's about delivering an emotion and saying something that resonates with people. The only option I had was to see how far this rabbit hole goes ... The world shut down. I couldn't get in the studio with anyone. Someone's got to sing on these records. Might as well try and have it be me for a bit. [Laughs]
ED: You're a singer, songwriter, producer, DJ, and so on. Do you feel like you exist between worlds?
SG: I think categorization makes it easy for people to associate things. Like, if you're a DJ, you hit play and pump your arms in the air. Or if you're a singer, you sing in front of the stage. I feel like I do a bit of everything. I don't feel like an expert at any of them. I'm most confident as a producer, but the fun bit about music for me is putting yourself outside your comfort zone. If I'm not doing that, then I get bored.
ED: Who first pushed you out of your comfort zone?
SG: Howard [Lawrence] from Disclosure. We were writing a song and he was like, "You are gonna sing this song." He really forced me to do that, as a friend.
The first time I heard my voice on the radio, I felt like I tricked people. But then I've always felt that way about anything. There's an element of imposter syndrome to everything I do. It just felt like another thing to try and conquer … I'm waiting for someone to walk through the door and be like, "Who let this guy in?" [Laughs]
ED: Any particularly wild names sliding into your DMs?
SG: The Elton John thing was obviously just insane. I can't really top that, to be honest. That's kind of the co-sign of all co-signs to me.
ED: Let's talk about some of the choices you made on the album, like "Epiphany." That's your longest song to date.
SG: Yes. [Laughs] An indulgent, nine-minute instrumental. Like I said, this album was selfish. I was exploring as much of myself as possible. If I was gonna try something, I was gonna try it on this album. And if this track was to be an epiphany, this arrival at a greater truth, then it didn't feel like something that could happen in four minutes.
ED: "Oh, Laura." Do I dare ask the story behind that?
SG: I can say, hand on heart, that it's purely just a fictional song. I don't think I could release a song that brutal about someone real.
ED: There's a sample of Force M.D.'s "Tender Love" on "Something About Your Love," by Jimmy Jam & Terry Lewis.
SG: We cleared the sample pretty late. I really wasn't sure if it was gonna happen until the last moment. I didn't want to re-create the sample. I wanted to keep the original recording, because there's magic in there. It was really cool that I was able to end up using it.
ED: Do you have anything buried in the album that people haven't caught yet?
SG: There are some samples in there that no one has caught yet. If they do, I'll be so impressed. They're not obvious ones, they're just little snippets from records and stuff.
ED: You said there was a mishap while recording "Vibe Like This" with Lucky Daye and Ty Dolla $ign, involving you feeling the secondhand-high effects.
SG: [Laughs] Yes. I nearly pulled the laptop off the table because I'm a bit of a lightweight when it comes to smoking.
ED: I would imagine things can get rowdy sometimes. What about Tove Lo? What's it like working with her in the studio?
SG: Tove is just incredible. We have so much fun making music together, but we've also become good friends and had some great nights out together. She's so cool, so sweet, and her pen is unbelievable. Every time we get in the studio, it's effortless. She's truly one of the best we have.
ED: Have you reconnected with Dua Lipa post-Future Nostalgia to discuss how much has happened since?
SG: I don't think we've had a chance to really reflect on it recently. She's been touring the world. I met Dua before things really exploded. In many ways, Dua always knew where she was going. She's humble and appreciative. I think she had a plan and a vision. We were lucky to get caught in the stream of it.
ED: You've exploded in many ways recently, like being tasked with the official remix of Whitney Houston's "I'm Every Woman" for the I Wanna Dance with Somebody soundtrack.
SG: Whitney's arguably the greatest vocalist of all time. To be trusted with those stems, to communicate with Darkchild [Rodney Jerkins] about the remix … I didn't wanna ruin Whitney's version. I wanted to re-contextualize it, but I didn't want to disrespect it too much. I was just grateful that people didn't turn up [at] my house with flaming torches. [Laughs]
ED: Because of the Whitney remix, did you have interest in film, even scoring?
SG: Absolutely. I'd love to score a film. It's on the bucket list of things I want to do.
ED: You were just onstage with Nelly Furtado at Australia's Beyond the Valley music festival. What happened there?
SG: We got put in contact and started exchanging music and ideas. She's unbelievably lovely, and so good at music. Hopefully we'll get a chance to get into the studio and make some music in the near future. She texted me and was like, "We're on the same festival in Australia. Do you wanna jump on stage and do a song?" Of course, you're just not gonna say no to that.
ED: Are there other names you want to put out into the universe as future collaborators?
SG: Bon Iver. Charli XCX. Sade.
ED: Anyone on your playlist that fans wouldn't expect?
SG: I'm listening to everything all the time. Last week was Radiohead's Kid A. The week before that I was going back to the '90s, like the "Macarena." It's tiring in my brain. Sometimes it's "Love Story" by Taylor Swift, and sometimes it's ambient music by Daniel Avery.
ED: You've amassed quite the LGBTQ+ following. What's your relationship like with those communities?
SG: It's honestly one of the most rewarding and incredible things about releasing music for me. The energy and attention to detail that the gay community gives the music… they know who the songwriters and the producers are, and they get all the references. They care about music in the way that I do. I just feel really lucky to get to share spaces and help create spaces for that community to enjoy music.
SG: Where do you hope to take the record for the rest of the year?
ED: I have a European tour and festival sets. I'm really not trying to over-tour because I feel like I've been touring a lot. I want to go to a lot of places, but making new music is always my priority. I'm already kind of brimming with ideas for what I want to do next. I would rather make more music than go on tour for two years.