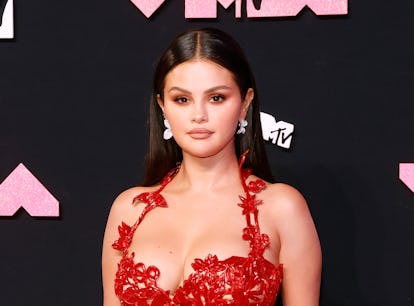 Selena Said She'll "Never Be A Meme Again" After Her VMAs Reactions Went Viral
She's definitely not happy with the internet right now.
Selena Gomez knows better than almost anybody that becoming the internet's latest meme sensation can be a double-edged sword. Just last month, she joined in on the fun when a photo of her in a blanket became meme gold, but she's not feeling the meme treatment that she got during the 2023 MTV Video Music Awards. After a pair of negative reaction shots of Gomez went viral during the VMAs, the superstar vowed she would never become a meme again, saying she was being "dragged for being herself."
The first incident was captured at the beginning of the awards ceremony. The MTV cameras caught a shot of Gomez appearing to cover one of her ears during Olivia Rodrigo's performance of "vampire." Of course, since the Swiftie-verse is currently obsessed with over-analyzing any Taylor Swift-adjacent celeb's interactions with Rodrigo, the clip blew up on social media with thousands of viewers interpreting it as shade. It didn't take long for the short video to become a new meme, as Gomez covering her ear turned into a relatable reaction for anyone who finds themselves in a loud, uncomfortable environment.
But Gomez clarified that her response wasn't meant to be shady towards Rodrigo. When Buzzfeed posted about the moment on Instagram, Gomez spilled the truth in the comments: "I heard a loud noise and it scared me."
Next up, Gomez once again went viral when she grimaced after Chris Brown was announced as a nominee in the night's Best R&B category.
Once again, Gomez took to Instagram to shrug off all the attention on her reaction. When iHeart Radio posted the video, Gomez dismissed it with a pithy reply: "Who cares lol."
Clearly, Gomez was pretty annoyed by how even her slightest facial expressions were being over-analyzed and turned into widely shared reaction videos by the internet. Early in the morning after the VMAs, Gomez took to her Instagram Stories to get real about her feelings. "I will never be a meme again," she wrote. "I'd rather sit still then be dragged for being myself."
Well, there you have it. Selena Gomez is handing in her meme queen crown for the time being, it seems.