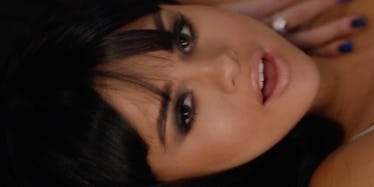 Selena Gomez Turns Up The Sexy In New Music Video For 'Hands To Myself'
After posting a photo of possibly the sexiest man alive, Selena Gomez left fans wondering if the mysterious dude is her new Justin Bieber.
Today, however, it has been confirmed that the singer's relationship with the incredibly attractive Los Angeles, California-based model is strictly business -- in reality, that is.
Released today, Selena Gomez's music video for "Hands To Myself" reveals a whole new super sexy side to the 23-year-old singer, alongside model costar Christopher Mason.
As she strides through Mason's beautiful Hollywood Hills mansion, Selena shows off an enviable figure in black lingerie and heels, leaving body-shamers with their feet in their mouths.
In the heat of an obsession with Mason, Gomez creeps around his mansion until he finally returns home, and what happens next you won't see coming.
Watch the story play out in the music video below.
Citations: Selena Gomez Makes Out With the Hottest Guy Ever in Her Sexy ''Hands to Myself'' Music Video (E! News)