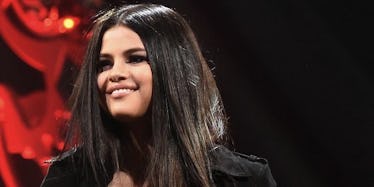 Meet The Incredibly Hot Guy Selena Gomez Just Posted On Instagram (Photos)
Getty Images
Earlier this week, we revealed the identity of the mystery girl Justin Bieber posted on his Instagram account.
Apparently, that gorgeous gal isn't the only good-looking person on social media with a celebrity admirer.
It appears Selena Gomez is also crushing pretty hard on a mystery man.
She recently posted a photo of a smoking-hot dude on her Instagram account and thanks to some of his distinct tattoos, we all now know who he is.
Meet Los Angeles-based model, Christopher Mason.
Mason might just be one of the most blessed creatures known to mankind, so it's not hard to see why Selena wants a slice of this sexy stud.
Seriously, with his blond flowing locks, brawny bod and irresistible eyes, it's almost impossible not to fall head over heels in love with this fine fella.
Take a look at the pictures below to see Selena's possible new crush.
Selena Gomez recently posted a picture of a potential new crush on Instagram...
...and now people know the identity of the gorgeous mystery guy.
His name is Christopher Mason...
...and he's a model who lives in Los Angeles.
You can't blame Selena for crushing on this fine fella...
...because let's face it, Mason is seriously f*cking hot.
With his smoking-hot bod...
Flowing blonde locks...
And mesmerizing eyes...
...there's no denying Mason is one incredibly fortunate human being.
If that stuff isn't enough to make you fall in love, you'll be glad to know Mason also love puppies...
Is great with kids...
...and looks pretty badass on a motorcycle.
Plus, this heavenly hunk looks hot in a beanie...
...and totally nails that sexy intellectual look.
Like seriously, how does someone this perfect actually exist?
Citations: Selena Gomez Has an Instagram Crush, Too — and We Know Who He Is (Teen Vogue)