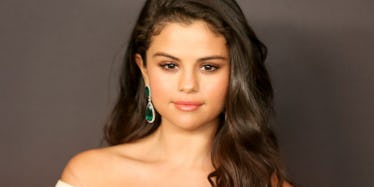 Selena Gomez Addresses Critics Of '13 Reasons Why' With Pointed Response
REX/Shutterstock
"13 Reasons Why" has received critical acclaim and it's already the most talked-about series of the year. But mental health experts and even schools have expressed concerns about the show's depiction of Hannah's suicide, which some people describe as a glamorization of the act.
Selena Gomez has broken her silence about the controversy and addressed the critics of "13 Reasons Why." The 24-year-old, who co-produced the series, stands by the unflinching depiction of sexual assault, bullying, and suicide.
"The [backlash] is going to come no matter what," Gomez told the Associated Press. "It's not an easy subject to talk about."
"We stayed very true to the book and that's initially what Jay Asher created was a beautifully tragic, complicated yet suspenseful story and I think that's what we wanted to do," Gomez said, adding that she's "very proud" of the project and thrilled by its success.
Among those who have expressed concerns about the series is "Stranger Things" star Shannon Purser, who advised anyone struggling with suicidal thoughts, self-harm, or the aftermath of a sexual assault to think twice before marathoning "13 Reasons Why."
Purser later clarified that she appreciates the show, but she doesn't want anyone to "unwittingly watch something that could affect you in a negative way emotionally."
Schools have sent warnings to parents that the show's graphic content could be triggering for emotionally vulnerable teens. The National Association of School Psychologists issued the following statement:
"Its powerful storytelling may lead impressionable viewers to romanticize the choices made by the characters and/or develop revenge fantasies. They may easily identify with the experiences portrayed and recognize both the intentional and unintentional effects on the central character."
Gomez isn't the first member of the "13 Reasons Why" team to address the controversy. Nic Sheff, one of the show's writers, defended the graphic scenes during an interview with Vanity Fair:
"Facing these issues head-on—talking about them, being open about them—will always be our best defense against losing another life. I'm proud to be a part of a television series that is forcing us to have these conversations, because silence really does equal death."
"13 Reasons Why" undeniably tackles important subject matter that's often considered taboo — and it certainly deserves praise for that.
But, as many have expressed, emotionally vulnerable teens may be well-advised to sit this one out if they're coping with suicidal ideation, mental illness, or the aftermath of sexual assault.
If you or someone you know are experiencing suicidal thoughts, call 911, or call the National Suicide Prevention Hotline at 1-800-273-8255.
Citations: Why Schools Are Warning Parents About Netflix's Series 13 Reasons Why (People), Selena Gomez Responds to 13 Reasons Why Controversy: 'It's Not an Easy Subject to Talk About' (People), Selena Gomez Addresses 13 Reasons Why Backlash (MSN), "13 Reasons Why" Netflix Series: Considerations for Educators (National Association of School Psychologists), 13 Reasons Why Writer: Why We Didn't Shy Away from Hannah's Suicide (Vanity Fair)