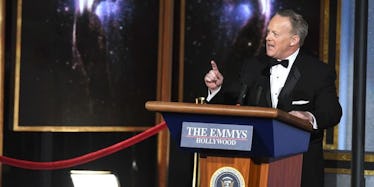 Twitter Was Not Here For Sean Spicer's Emmy Appearance
Kevin Winter/Getty Images
All in all, the 69th Primetime Emmy Awards was a pretty good Emmys. Stephen Colbert didn't make a single racially insensitive joke, Lena Waithe gave an incredibly inspiring acceptance speech, the gay episode of Black Mirror won twice, and there was not a Modern Family win in sight. But there was one dark cloud over the evening: the surprise, supposedly comedic appearance by disgraced former press secretary Sean Spicer. Judging by the Sean Spicer Emmy reactions on Twitter, viewers were not pleased to see this angry little man joking around with his pal Stephen Colbert on their television screen.
Maybe it's a good thing the 2017 Emmys got this questionable political stunt out of the way early. The Former White House Press Secretary to President Trump was brought out on stage by host Stephen Colbert at the end of his opening monologue. The real Spicer rolled out on a mobile podium, famously used by Melissa McCarthy in her impressions of him on Saturday Night Live. The real Spicer got a few jokes in. He referenced his famously inaccurate judgment of the inauguration crowd size by saying,
This is the largest audience to witness the Emmys, period. Both in person and around the world.
Ha ha. Wink wink. Nudge nudge. Get it? It's totally fine that he spewed blatant lies to the American public, because now we can all laugh about it together!
The audience laughed and cheered for this former face of the Donald Trump presidency, and then later in the night gave all the Emmys to The Handmaid's Tale, you know, that show about how a dystopian, oppressive government is a bad thing. Yay, cognitive dissonance!
Anyways, I'm not the only one who found this particular political stunt to be in fairly bad taste. The reaction on Twitter to Sean Spicer's Emmy appearance was overwhelmingly negative — from both regular viewers and celebrity viewers. Former SNL player and actress Jenny Slate tweeted that she was "so grossed out" by the decision. She said,
Truly so grossed out by A GROUP of people ever even considering the idea of real life Spicer at the Emmys. What is wrong with you? Wake up.
Similarly, actor Zach Braff tweeted,
I'm not ready to laugh "with" Sean Spicer. I think he is an evil, opportunistic liar that hurt our country.
Filmmaker and actor Rob Reiner, known for his role as Max Belfort in The Wolf of Wall Street, tweeted,
DT is a sick liar. If we reward Sean Spicer for enabling his sickness, we are saying we accept a mentally ill POTUS.
And of course, though she didn't share her opinion on Twitter, Melissa McCarthy's reaction when the camera cut to her during the real Spicer's bit said a thousand words: She did not approve.
Many non-celebrities also shared their disapproval on Twitter, some viewer lamenting the double standard for 2016 presidential candidate Hillary Clinton and this small angry liar.
Others critiqued the Television Academy for its hypocrisy. Again, though the night was filled anti-Trump sentiment, inspiring speeches about political activism, and supposedly subversive post-Trump television, Spicer was still invited onto that very same stage where that all took place.
And according to journalist Chris Gardner of The Hollywood Reporter, who attended the show, Spicer had no lack of fans and attention after the Emmys. Gardner tweeted,
What pariah? Sean Spicer getting mobbed in #Emmys lobby. Posing for pics, drinking beer, soaking up all attention after onstage appearance.
Don't you just love it when lying politicians — who are so terrible at their job even Donald Trump has to fire them — become beloved, whacky celebrities? Thanks for that one, Academy of Television Arts & Sciences.