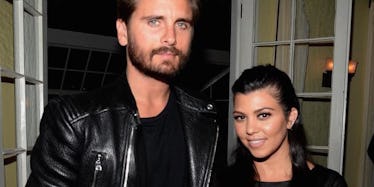 Scott Disick Just Posted Nude Pic Of Kourtney, Says She's A 'Hot Mama'
Getty Images
Scott, I have lots of questions for you and I need answers. NOW.
There has been a lot happening between Scott Disick and Kourtney Kardashian after their recent split.
Kourtney cried about Scott's partying, rumors circulated about Scott dating 18-year-old Lindsay Vrckovnik and now SCOTT POSTED A NUDE PICTURE OF KOURTNEY SAYING SHE'S A "HOT MAMA."
WHAT IS HAPPENING?
Kourtney recently did a nude photo shoot for Vanity Fair, and by the way, she looked glamorous. But Scott just shared it on HIS OWN INSTAGRAM.
The caption reads,
Now that's 1 hot mama.
Is Scott trying to hint that maybe he wants to get back with Kourtney?
Did they even break up?
Are we all just getting punked?
It's getting seriously hard AF to "keep up with the Kardashians."