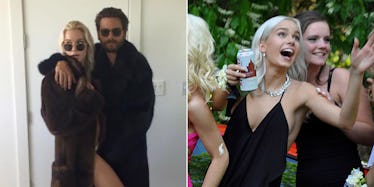 The Model Scott Disick Is Dating Graduated From High School 4 Months Ago (Photos)
Scott Disick has clearly been spending too much time with Tyga.
The 32-year-old rich kid ended a very long and public relationship with Kourtney Kardashian and has three children with her.
To get over the pain, he did what any real scumbag would do and went to the Fountain of Youth to help cope with the huge loss.
Scott Disick pulled the ultimate scumbag move and is now reportedly dating 18-year-old Canadian model Lindsay Vrckovnik.
Just about four months ago, she graduated from high school and was turning up at prom.
Now, she's with Scott in Miami doing exactly what you'd expect Scott Disick to be doing in Miami.
But the two met in New York where she models for Spot 6 Management.
Their age difference is 14 years, if you can't do math and were wondering.
But that doesn't mean she's unable to enjoy an adult beverage...
...or smoke a little something with her homegirls!
Let's see how long this one lasts!
Citations: Who is Lindsay Vrckovnik (Hollywood Life)