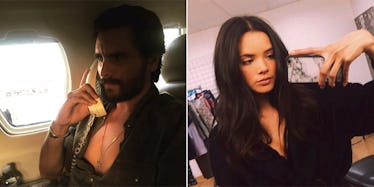 Here's The 20-Year-Old Kendall Jenner Look-A-Like Scott Disick Is Now Dating
Instagram
Scott Disick is as Hollywood as it gets, so it's no surprise that no matter how much older he gets, he continues to date young girls.
His new chick is actually older than his last one; however, there is one thing we should mention: She pretty much looks like the JV version of Kendall Jenner.
Scott Disick's new lady looks... err.... familiar: https://t.co/XAG9teYa43 pic.twitter.com/HpYZ86cwjX — EntertainmentTonight (@etnow) March 17, 2016
According to E! News, Disick has been dating 20-year-old Christine Burke as of late.
The two were spotted leaving Nobu recently, and according to sources, they've been spending a lot of time together, even taking a trip to Mexico.
People on social media are already tripping out, saying she looks like Kendall Jenner, but while they don't look exactly alike, you can definitely see the template he's going for.
It doesn't seem like Scott is getting back with Kourtney any time soon, so he's going all out and having all the fun he wants with some of the youngest of the young (not like Tyga, though).
Realistically speaking, this was probably the least scumbag way Scott could've dated Kendall without actually dating her. So shout out to him?
At the end of the day, we can neither blame nor judge him. He's staying on brand and you've got to respect that.