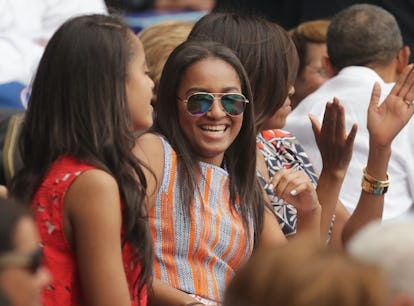 Sasha Obama Just Graduated College & The Whole Internet Is Celebrating Her
The youngest Obama is ready to take on the world!
Chip Somodevilla/Getty Images News/Getty Images
The youngest Obama just celebrated a huge milestone. On Friday, May 12, Sasha Obama graduated from the University of Southern California, receiving her degree in sociology. The whole Obama family showed up to support Sasha, but they weren't the only ones celebrating. Fans flooded social media with photos and clips of the graduation ceremony, marveling at how the little girl the nation first met when Barack Obama was elected president in 2008 is now taking on the world herself.
For her big day, Sasha Obama made her cap and gown look her own by wearing Hawaiian leis around her neck, a nod to her father's birth state. She wore her hair down in highlighted layers, and rocked dark blue nail polish. The look was on point, but the true highlight was Sasha finally receiving her diploma. Her parents, Barack and Michelle, watched on with pride from the crowd, along with Sasha's big sis, Malia.
As photos and video clips of the event began popping up on social media, Sasha became a trending topic, with supporters sharing their congratulations. The event caused a lot of people to reflect on how fast the past several years have felt — Sasha was just 7 years old when she and Malia were introduced to the world during their dad's presidential campaign. Now, she's a college grad!
Sasha Obama's college experience actually began at the University of Michigan, but in 2022, she transferred to USC, moving across the country to live with her Los Angeles-based sister Malia. The two Obama girls share an apartment in the city, and Malia has already made a name for herself in Hollywood as a screenwriter. She began her TV and film career as an intern on Girls back in 2015, and after graduating from Harvard University in 2021, she joined the writers' room for Donald Glover's Beyoncé-inspired thriller Swarm.
With her degree in sociology, it doesn't seem likely that Sasha shares her sister's interest in Hollywood. Still, you can bet everyone is ready to cheer Sasha on in whatever her next steps will be.