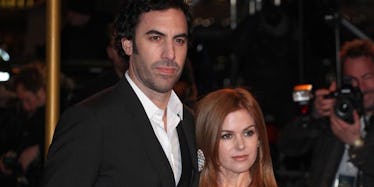 Sacha Baron Cohen and Isla Fisher Just Gave $1M To Help Syrian Refugees
Getty Images
Actor Sacha Baron Cohen and actress Isla Fisher just set a huge example for the world by donating $1 million to Syrian refugees and others impacted by the conflict in Syria, PEOPLE magazine reports.
The couple donated $500,000 to Save the Children, which will reportedly use the money for measles vaccinations for children in northern Syria.
They also donated an equal amount to the International Rescue Committee (IRC) to assist Syrian women and children both inside Syria and in neighboring countries.
The money will help with everything from healthcare and education to shelter and sanitation.
Justin Forsyth, chief executive of Save the Children, applauded this development in a statement.
The Syrian conflict is now approaching its fifth year and children are the first victims. There is no safe place left in Syria, with shelling and violence omnipresent... By allowing us to make their generous donation to Syrian children public, Sacha and Isla are helping highlight the tragedy of the issue today. These are desperate times for Syrian families facing bombs, bullets and torture in Syria. The couple's donation will save many thousands of lives and protect some of the most vulnerable children.
Indeed, we are witnessing the worst refugee crisis of our era, and Syrians are at the center of it.
There are currently around 19.5 million refugees around the world, and around four million are Syrians.
Millions of Syrians are also internally displaced, as their homes have been decimated by an ongoing conflict that's claimed around a quarter of a million lives.
In spite of the struggles Syrians face, recent terror attacks in Paris and San Bernardino led many to view Syrian refugees with suspicion and disdain.
Cohen and Fisher are obviously rising above these fears and just set a wonderful precedent for celebrities and the general public alike.
Citations: Sacha Baron Cohen and Isla Fisher Donate 1 Million to Syrian Refugees (PEOPLE magazine)