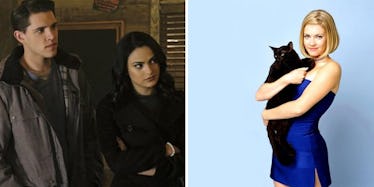 Are We Going To See Sabrina The Teenage Witch In The 'Riverdale' Finale?
CW/WB
We're so close to finally learning what's really going on in the town of Riverdale, but some fans are wondering if this week's season finale will also bring in a new, mysterious element -- one of the teenage witch variety.
Although most of us probably know Sabrina Spellman from Melissa Joan Hart's magical '90s show, the character actually originated in the "Archie" comics, which of course "Riverdale" is based on. She's probably the most popular character from the comics that we haven't yet seen portrayed on the CW show, so fans are itching to see her fly into town.
But how likely is it that everyone's favorite teenage witch will pop up in the season's final episode?
Actually... it sounds like there's a pretty good chance it actually is going to happen! The theory first kicked off when fans noted Betty's interesting choice of words in the promo for the finale: "Something wicked this way comes."
It may seem like a stretch to assume that phrase is a sign that Sabrina's on her way, but it's more convincing when you pair it with the fact the showrunners have been teasing Sabrina's reveal for a while now. KJ Apa (who plays Archie), even straight-up told the crowd at Comic-Con last year that Sabrina shows up in the final episode, as reported by Den of Geek.
Sabrina, I don't know if you're familiar with Sabrina from the comics, she's going to come. Yeah, she comes in our last episode.
Of course, Apa revealed that a while before "Riverdale" actually premiered, and now that the show has officially been picked up for a second season, the showrunners might have decided to move stuff around and maybe save Sabrina for Season 2. But it really does sound like all signs point to Sabrina's big arrival in this Thursday's finale.
So how will Sabrina fit into "Riverdale"?
Since the show has given dark, gritty makeovers to all the "Archie" characters, Sabrina probably won't be the blonde, bubbly witch we know from the comics. Fans are theorizing she might be the school's emo girl who practices Wicca.
There's also a pretty wild theory that we've already met Sabrina! Some fans think that the show is combining Betty Cooper and Sabrina into one character, considering we've seen Betty's dark side come out a few times already.
Maybe Betty's dark side actually is Sabrina!?
Whatever the case, there's a pretty good chance we'll finally know what "Riverdale" Sabrina looks like on Thursday, so get ready for some magic!