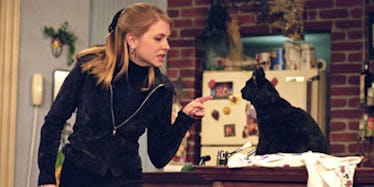 Melissa Joan Hart Says She's Not Opposed To 'Sabrina The Teenage Witch' Reboot
Yo Hermione, Imma let you finish, but Sabrina Spellman is the best teenage witch OF ALL TIME!
If you spent much of your childhood wondering how the heck they made the cat talk on "Sabrina the Teenage Witch," I have news for you: You're old.
I know you're old because the first episode of that magical ABC sitcom aired 20 years ago this week, on September 27, 1996.
After 20 years without it, is there any chance we might rekindle the magic with a "Sabrina" reboot?
Melissa Joan Hart thinks there might be a slight possibility.
According to Entertainment Tonight, the 40-year-old actress recently said she would only do a reboot if it was "really, really great." She said,
There's a lot of talk about a 'Sabrina' reboot. I feel like almost every day, somebody's calling me about it. 'Would we do it? Should we do it? How do we do it?' I think the things about reboots is they're really hard to do. They're hard to do right. I think sometimes it's better to just leave it in the past unless you do it really, really great.
That's fair. I don't want more "Sabrina" if it's just going to be a "Fuller House" situation.
Back in March, Melissa also hinted at the possibility of either a "Sabrina" or a "Clarissa Explains It All" reboot, when she said on The FabLife Show executives were "throwing around Clarissa and Sabrina ideas."
Melissa herself celebrated the 20th anniversary of the show this by sharing a commercial of herself on Instagram.
OK, I'll admit, even it is sponsored by Nutrisystem, it does make me pretty happy to see Melissa using those magic sparkles again.
At least she posted a meme, too.
Happy 20 years, Sabrina! I will forever be envious of your effortless outfit changes.
Citations: Melissa Joan Hart Celebrates 20th Anniversary of 'Sabrina the Teenage Witch', Dishes on Possible Reboot (Entertainment Tonight)