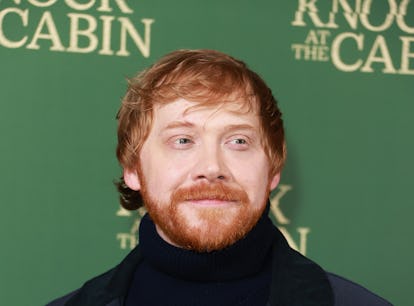 Rupert Grint Is All For A Harry Potter TV Show, But He Won't Be Part Of It
"I think it would really work."
David M. Benett/WireImage/Getty Images
There have been a lot of rumblings about a possible Harry Potter TV series recently, and one of the original movies' stars is totally into the idea. However, Rupert Grint doesn't see himself returning to the role that made him famous. The actor opened up about his feelings about a potential television adaptation of Harry Potter, revealing he thinks it could work well, but not with the original cast.
Grint shared his enthusiasm for the idea of a Harry Potter TV series during his Jan. 30 profile for British GQ. "I'd love to see Harry Potter be adapted into a TV show," Grint said. "I think it would really work. I'm sure the films will get remade, anyway."
A Harry Potter TV show is something that has been rumored for the past few years. Back at the start of 2021, reports emerged that HBO Max was readying a writers' room for a new series set within the world of Harry Potter. However, WarnerMedia (the studio behind the Harry Potter movies as well as HBO Max) denied any such series was in development at the time. Still, the rumor was enough to get the fandom talking about what a potential HP TV show might look like, since an adaptation does sort of feel inevitable in the heyday of streaming services jumping on reboots and spinoffs of mega-popular franchises.
While Grint is here for the idea of a new Harry Potter show, fans shouldn't expect him to pick up the wand once again as Ron Weasley. He made it clear that he feels the potential show should give a whole new cast the opportunity to step into the wizarding world.
"I think there'd be a feeling of passing the baton, letting someone else play Ron," Grint said. "It's weird because I'm protective over him, I could relate to him so much, and then I was picked to bring him to life. That's hard to let go. But it would be nice to, as well."
So far, nothing official has been revealed about any TV adaptation of the Harry Potter world, but it's nice to know Grint is pulling for it... even if he doesn't want to get involved himself.