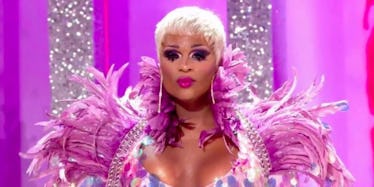 'RuPaul's Drag Race's Peppermint Talks 'All Stars' & Fave Season 9 Moments – EXCLUSIVE
VH1/YouTube
OK, squirrel friends, if you're anything like me, then you're still not at all over the finale of RuPaul's Drag Race Season 9. (I mean, who would have ever thought "Stronger" could become even more iconic than it already was?) Anyone who tuned in to watch the top four battle for the crown earlier this year knows it was one of the most suspenseful finales in Drag Race herstory and, really, any one of the final queens could've snatched the title of America's Next Drag Superstar in the blink of a fake eyelash eye. Of course, after an intense night of emotional and gag-worthy lip syncs, Sasha Velour earned her spot as our current reigning Drag Superstar, but I think we can all agree Trinity, Shea, and Peppermint are just as deserving of that title. If ever there was a year for four queens to share the crown, this was definitely it.
Recently, Elite Daily got to speak with Season 9's runner-up — the always sweet, always sassy, and effortlessly drop dead gorgeous Miss Peppermint — ahead of her appearance at DragCon NYC this weekend, 9/9-9/10, at the Javits Center, about her favorite moments from the show, whether or not we can expect to see her on All Stars anytime soon, and what's next for her.
I had the pleasure of first talking with Peppermint about her relationships with the other girls from Season 9. Naturally, I had to know who she is the closest with today out of her fellow contestants. In a heartwarming tone, she tells me,
Honestly, it was a close-knit cast... I don't think there's a single girl that I don't like on the season. The one that I've grown the closest with is Sasha; she honestly was very integral in creating a safe space for me to feel like I could come out to the rest of the girls as trans, and we participated in a lot of conversations on and off camera about gender and the world of drag. The person I was next to in The Werk Room most was Trinity, so she and I became extremely close and I love her to death.
Peppermint also spoke of the "friendly competitor rivalry" she shared with Trinity during the season, which immediately gave me (and, I'm sure, her) flashbacks to their iconic round one finale lip sync, so I followed up by asking if there were any other moments in particular from Season 9 that stood out to her as favorites. She quickly mentioned every time she gave her all during a lip sync and saved herself from elimination, but focused more specifically on one episode, saying,
My top favorite moment was when I won the roast challenge because I didn't have that much confidence; roasting is not necessarily my thing, and I did it well and I was really happy about that.
Hell yea she did it well. Roasting is not the only thing she slayed at on Season 9, though (obviously since she almost won...). The queen's lip syncs were masterclasses in drag performance, the girl knew how to turnout lewks on the runway, and her impersonation of Britney Spears has Derek Berry shaking; all in all, Miss Peppermint is the real deal, which is why she'll be serious competition if she ever lands a gig on All Stars. Of course, I asked the New York queen if we can ever expect to see her on the acclaimed spinoff; she tells me,
I don't know, I guess we'll have to see. I love AS, it's one of my fave versions of Drag Race where we get a chance to see some of our favorites, so yea I'd love to do it.
When I asked who she would want to compete against on All Stars, she said, laughing, "Me, me, and me," before seriously revealing,
I would love to go on there with Ivy Winters and I think Alyssa Edwards, if she got another chance to come on.
Talk about a lineup I'd love to see in the Werk Room together. All three of these queens have different personalities and strengths, so I'm sure that would be one hell of an interesting combo. Peppermint has been super busy touring with the rest of the Season 9 girls this summer, though, so I doubt we'll get to see it happen in January on All Stars 3, but there's always AS 4.
Since it doesn't look like we'll get to see the Season 9 runner-up back on RuPaul's runway just yet, I had to know what she has in store for us in the future. Excitedly, she responds,
I have an album that just dropped, which is called Black Pepper, and also I have a new documentary coming out in 2018; the working title is "Precious Peppermint," and I think that should be the main title, but I'm not in charge of that... also, in 2018, Sasha and I are planning a college speaking tour, so people can keep their eyes peeled for that.
Yes, gawd. Count me in for all of it. In the meantime, while we wait to see more of Pepp, you can find me over here with a glass of ice water and a defibrillator as I rewatch the legendary Peppermint vs. Trinity lip sync.