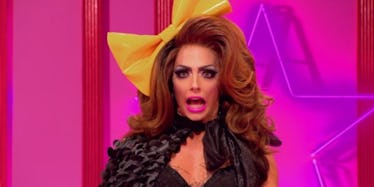 'RuPaul's Drag Race All Stars' Season 3 Is Officially Happening, So Start Your Engines
Logo/VH1/YouTube
Hallelu, hennies, hold on to your wigs because it's time to celebrate. Like any self-respecting gay, every night I pray to Mama RuPaul and Michelle Visage for a new season of All Stars and my prayers have finally been answered. RuPaul's Drag Race All Stars Season 3 has been greenlit by Vh1 and I have one thing to say: "YES, GAWD!"
Until recently, All Stars was only rumored to be filming its third go around, but now we can officially start our engines and gear up to watch the best of the best from Seasons 1-9 battle it out for the chance to make it into the Drag Race Hall of Fame. VH1 will premiere the third season of All Stars in early 2018, just in time to be the perfect appetizer for Drag Race's tenth season, which has already been ordered by VH1 and is set to air next spring.
In a statement regarding the announcement of AS3, our Emmy-winning mother and queen of puns, RuPaul, said,
The world is calling out to see more of these beautiful queens and I am going to give them every bit of it they can handle. All Stars represent the best of the breasts, legs, and thighs. They are giving everything and you're not going to want to miss it!
As if this isn't exciting enough, VH1 announced one more HUGE win for Drag Race fans; in addition to All Stars 3 and RPDR 10 getting the thumbs up, the network has ruvealed it will be bringing Untucked back to television. *GASPS IN GAY* The Emmy-nominated, documentary-style spinoff has lived on the WOW Presents YouTube channel since 2015 (Season 7), but the backstage drama we messy bitches live for is finally heading back to TV alongside RPDR Season 10.
Pamela Post, the SVP of original programming and development at VH1 commented on the return of All Stars and Untucked, saying,
The massive swell of new and longtime fans of RuPaul's Drag Race is nothing short of incredible. We are motivated now more than ever to ensure Drag Race remains a shining example of inclusion and community, as well as fierce fashions and legendary lip-syncs.
Amen, girl. The only thing that sucks about this is now we have to wait a few months before AS3 premieres, but, I guess in the meantime, we can start thinking about what twists Ru will have for us this season (like making the queens send each other home...) and keep guessing which of our faves will be competing for the crown. All I'll say is Trixie better come the f*ck throughhhhh. Until then, here's Trinity and Pepp's lip sync because I'm still not over it.