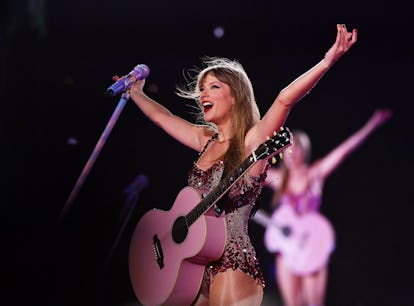 A Full-On Taylor Swift Cruise Is Setting Sail In 2024
The ultimate Swiftie vacay!
Forget the lakes, it's time to hit the seas. Royal Caribbean and Marvelous Mouse Travels just announced the most special way to celebrate the final dates of Taylor Swift's world-conquering Eras Tour. A Swift-themed cruise will set off from Miami the day after Swift's final concert there in the fall of 2024, taking a literal boatload of her biggest fans on a four-night Bahamian adventure.
The cruise is a fan-sponsored event put together by three Swift-obsessed travel agents with Marvelous Mouse Travels. It's a collaboration with Royal Caribbean, taking place on the cruise company's massive Allure of the Seas ship. But the event has no affiliation with Swift herself.
What sets this cruise apart from others is not only that it will be full of Swifties, but it will also feature tons of events and parties specifically tailored around Swift's music. From karaoke nights to friendship bracelet exchanges, the cruise is designed to keep the magic of the Eras Tour going, even as it's about to reach its end.
If you're ready to party Swiftie style, here are all the details you'll need to know about the Taylor Swift cruise, including how to get your tickets.
Book Your Room
Right now, you can join a waitlist on the cruise's website to book a room on the ship. You'll need to make a $100 deposit, then select the type of room you're requesting. Each room houses two guests. An interior room goes for $1,573, a boardwalk balcony room costs $1,993, and an ocean-view balcony room will run you $2,109.
Considering how expensive and difficult-to-get Eras Tour tickets are, splitting a room with your bestie for less than $800 each isn't so bad.
The Cruise Dates & Schedule
The cruise will kick off on Oct. 21, 2024 in Miami, Florida. After setting off from the Port of Miami, you'll enjoy a day on Royal Caribbean's private island, Coco Cay. Then you'll make your way to Nassau, Bahamas. Finally, there will be one final night on the sea before you arrive back at the Port of Miami on Oct. 25.
All The Swiftie Activities
Some of the activities teased for the cruise include: a welcome cocktail party, swapping friendship bracelets, a Taylor Swift-themed dance party, karaoke nights, Taylor Swift trivia, and a new eras outfit theme each night.