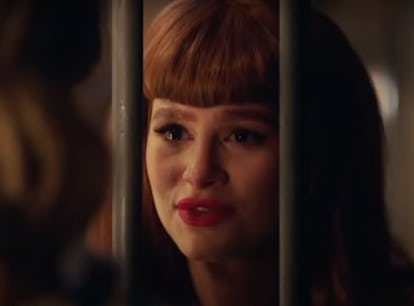 Sabrina Finally Makes Her Big Riverdale Entrance In This New Promo
Plus, are Betty and Cheryl kissing?!
The CW
There's only two episodes left in Riverdale's wildly unpredictable "Rivervale" event, and it has finally arrived at the moment everyone has been waiting for. The next new episode will bring Chilling Adventures of Sabrina star Sabrina Spellman into the world of Riverdale, but her long-awaited crossover isn't the only big surprise on it way. The Riverdale Season 6, Episode 4 promo also teases a totally unexpected kiss between Betty and Cheryl... or at least, two women who appear to be Betty and Cheryl.
So far, each episode of the five-episode "Rivervale" event has been completely different, with the only connecting thread being that a different horror story is at the center. The first episode was all about a ritualistic sacrifice, followed by the summoning of the vengeful ghost La Llorona, and then the arrival of the devil himself into the sinful small town. It looks like Episode 4 will dive into the core of this horror-inspired alternate reality, as it will tell the story of Cheryl Blossom's witchy ancestors. Remember, this whole Rivervale business kicked off shortly after Cheryl learned her ancestor, Abigail Blossom, was burned at the stake by Riverdale residents who accused her of being a witch. Cheryl then repeated the curse Abigail placed on the town, and then... well, that's where Season 5 ended and "Rivervale" suddenly began.
Episode 4 is going to be all about Cheryl's witchy ancestors, the promo reveals. "Three Blossom women, one story, echoing across time," Jughead's narration teases of the upcoming episode, over clips of an old-timey Cheryl signing a confession and being imprisoned.
It seems clear the bulk of the episode will be a flashback to Abigail Blossom's grim fate in the 1890s. And with the three Blossom women being Abigail, Nana Rose, and Cheryl, part of the episode may also be a flashback to Nana Rose's youth. The big shocker in the clip is an unexpected kiss between people who seem to be Cheryl and Betty, but since the episode will be so flashback-heavy, that moment is much more likely a loving embrace between either Abigail or Nana Rose and one of Betty's ancestors.
But all the drama isn't just set in the past — in the present storyline, the episode will also see Sabrina Spellman arrive in Rivervale. The episode's synopsis details exactly how this crossover will happen.
As Bailey's Comet passes over Rivervale, Cheryl and Nana Rose revisit the tragic stories of the Blossom women through the years. Meanwhile, the once-in-a-lifetime celestial event prompts Cheryl to summon a familiar face to Rivervale — Sabrina Spellman.
Start getting into the spooky spirit, because Riverdale Season 6, Episode 4, "The Witching Hour(s)," will premiere Tuesday, Dec. 7, at 9 p.m. ET on The CW.