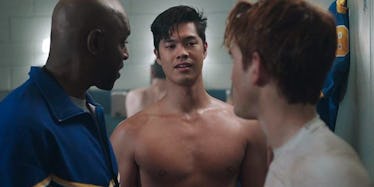 'Riverdale' Found Its New Reggie And Fans Will Be Thrilled
CW
There's a lot of buzz around who will be joining the Riverdale cast next season: Will we finally meet Sabrina the Teenage Witch? Wait, is Lucy Hale joining the show? Will Luke Perry be back or is he gone for good? But amidst all this uncertainty, at least fans know one casting decision for sure: Charles Melton will be the new Reggie on Riverdale.
The role of Archie's football rival was played by Ross Butler in the first season of Riverdale, but shortly after the season finale, Butler announced he would not be returning to the show, most likely to focus on his larger role on 13 Reasons Why. But Riverdale was quick to recast Reggie with another exciting new actor: Charles Melton. And from the looks of Melton, fans are definitely going to welcome him to the Riverdale family with open arms.
Best known as a model, Charles Melton has only had a couple acting roles prior to Riverdale. He briefly popped up in two Ryan Murphy shows as a background actor in an episode of Glee and then a bit recurring part in American Horror Story: Hotel. Reggie Mantle will be Melton's largest role to date, but at least we know he has the swoon-worthy good looks to fit in with the CW teen drama cast.
And now that filming for Season 2 has officially begun, Charles Melton is hanging out with the rest of the cast, and he seems to be fitting in great. He's been working out with KJ Apa (Archie Andrews) a lot.
But it's not all work. He's also having shirtless pizza parties with the crew, as Camila Mendes (Veronica Lodge) revealed in a new pic to her Instagram.
And Melton is also getting some bonding time in with the only other confirmed new actor to join the cast: Mark Consuelos. Towards the end of Season 1, Consuelos was confirmed to join the show as Veronica's ex-convict father in Season 2.
Fans will only have to wait a few more months before seeing Charles Melton in action as Reggie — Season 2 of Riverdale is scheduled to debut on October 11. But if you just can't wait to see more of him, I'd suggest a good 'ole Instagram stalking; his account is right here.