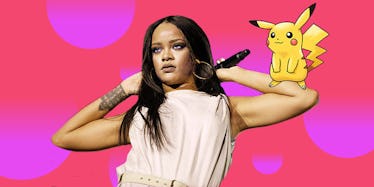 Rihanna Really Wants You To Stop Playing Pokémon Go At Her Concerts
REX/ Shutterstock
SHOW. RIHANNA. SOME RESPECT.
I love the culture the children of the '90s have created.
We never move on from ANYTHING and we're still able to found startups and headline world tours.
I'm amazed by each of us every day. Our love of nostalgia has enabled us to maintain every chestnut from our childhood — all the way from "Ghostbusters" to "Full House" — while still waking up every day for a big kid job that allows us to pay off our astronomical student loans.
Millennials are so routinely criticized by other generations, despite having discovered the optimal work/play balance, it's really up to us to support one another and acknowledge our contributions.
Fellow kickass Millennial, Rihanna, is asking you to put down your goddamn phones and stop catching Pokémon at her concerts.
At a recent show, Rihanna warned fans looking to play a little Pokémon Go between songs.
Not the Pokemon Rihanna!!! pic.twitter.com/GA8qUpAwj5 — Shady Music Facts (@TheShadyFacts) July 24, 2016
She told attendees,
I don't wanna see you texting your boyfriends and your girlfriends. I don't wanna see you catching any Pokémons up in this bitch.
YOU'RE STANDING IN FRONT OF RIHANNA, YOU GUYS! No member of the Navy should be catching Pokémon in the presence of RiRi unless a Sharpedo leaps from the screen and attempts to chew off her perfect, likely insured feet.
Nostalgia feels great, but so does being present and supportive and engaging. At upwards of $120 per ticket, you'd think that'd be a given.
Citations: Rihanna Warns Her Audience, 'I Don't Want to See You Catching Any Pokémons Up in This B–' (New York Magazine)