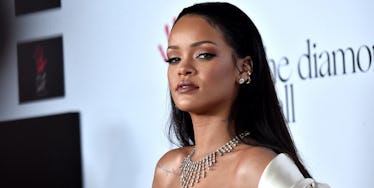 There May Be Another Reason Rihanna Bailed On Her Grammys Performance
Getty Images
If you watched the Grammy Awards on Monday night and wondered where the heck Rihanna was, you weren't alone.
She was actually supposed to perform, but canceled last minute.
According to TMZ, the official excuse given by Rihanna's team was a bout of bronchitis that prevented her from singing.
But, other sources at the show apparently told TMZ Rihanna was visibly and audibly upset during the rehearsal.
It's also true Rihanna performed just two nights earlier, and she reportedly sounded fine during the Grammys rehearsal.
It sounds like something went wrong during rehearsal that had Ri so upset she stormed out and bailed on the show. It must have been pretty bad too, because she threw away a great opportunity to remind everyone her album exists in the wake of this Kanye West sh*t show.
On the day of the Grammys, Rihanna tweeted an apology to her fans... and maybe also a subtle apology to the network.
Well, I hope Rihanna is feeling better, both physically and emotionally, so she can get back to work (work, work, work, work).
Citations: RIHANNA MELTDOWN AT THE GRAMMYS (TMZ)