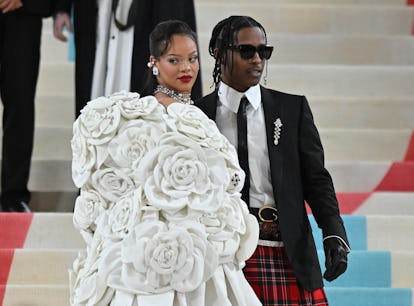 Rihanna & A$AP Showed "Intimate Closeness" At The Met Gala
"He's just looking at her like, 'Oh my God, I'm just the luckiest guy in the world.'"
NDZ/Star Max/GC Images/Getty Images
There aren't many people the Met Gala would wait for, but Rihanna is one of them. On May 1, Rihanna and A$AP Rocky took their time getting to the Metropolitan Museum of Art in New York City, but their walk up the beige carpet was definitely worth it. And it wasn't just their fashion that got everyone talking — Rihanna and A$AP's body language also showed off their close connection as a couple.
According to body language analyst Patti Wood, there were plenty of good signs in the way the couple interacted. "Typically, this event is about outfits, so couples often stand apart from each other, isolated to show off full effect of their dress or suit," Wood, author of Snap: Making the Most of First Impressions, Body Language, and Charisma, tells Elite Daily. "When that happens, the outfit becomes more important than the relationship." That wasn't the case for these two. Instead, Rihanna and A$AP remained close together in the "intimate zone of space," making it clear they were a unit first and foremost.
Here's everything to know about the duo's Met Gala body language.
They Faced Each Other
On the red carpet, celebrities — even when they're with their SO — often focus entirely on the cameras. Not Rihanna and A$AP. "They are facing toward each other, which is rare for a red carpet event. They're not just showing off their attire," Wood points out.
That's not the only promising hint Wood picks up in this photo. A$AP's hand is wrapped gently around Rihanna's waist, and he has a bit of a "pelvic lean," which indicates a sexual attraction to her. At one point, A$AP moves that hand to graze Rihanna's baby bump.
Though Rihanna's posture is a bit more protective in these photos, with her hands over her heart and elbows out, that might have more to do with her outfit than her relationship. By holding her dress together like this, RiRi actually makes room for A$AP to move a bit closer.
A$AP's Smile Says It All
The universe is in agreement: A$AP is one lucky guy. And it seems like he knows it. At the Met Gala, he couldn't keep her eyes off her, which Wood thinks is a good sign. "He's just looking at her like, 'Oh my God, I'm just the luckiest guy in the world,'" Wood explains. "He's really close behind her — as close as possible, and this intimate closeness really reveals how happy he is and how much he wants to be seen with her."
Meanwhile, Rihanna's pose here speaks to her confidence in her outfit — and potentially her romance. "She has shoulders back and relaxed. She's proud," Wood guesses.
They Stood In The "Love V"
While walking up the steps, Rihanna and A$AP posed in a sweet position, nicknamed the "Love V." Pay attention to their shoulders: If you were to trace them together, it would look like the top of a heart. "The sides of their bodies are touching from the shoulders down. They're as close as they can be, and it looks like their feet are touching on the outer edge, which speaks to equanimity in relationship," Wood adds.
Their closeness means fans don't get the full effect of their ensembles (at least, not A$AP's), but that's what makes the Love V so special. "It says, 'Yes, we're looking great for camera, but our relationship is central,'" Wood says.
They Held Hands
Celeb couples often hold hands on the red carpet, but in most cases, it's for practical purposes. On the Met steps, for example, many people hold hands to make it upstairs without tripping. A$AP helped out Rihanna with that, too (and kept smiling as the media dutifully ignored him in favor of her), but the hand hold pictured here is different.
"Often, celebrities hold hands to help them with stairs, but it's unusual for them to hold hands with each other in a resting posture," Wood explains. Their fingers are interlaced and lifted, which is a sweet sign of their affection. "With these outfits, a hand hold is where they can find physical closeness," Wood says. In the midst of Met Gala chaos, this pose makes it clear they're sticking together.