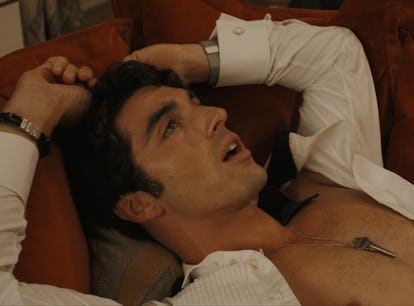 These Steamy Red, White & Royal Blue Sex Scenes Are Red-Hot
It's suddenly time for another rewatch.
Prime Video
There were a lot of reasons why the beloved novel Red, White & Royal Blue became so popular: its quick-witted humor, its international political drama, its carefully crafted queer characters. Oh, and of course, its sizzling hot sex scenes. When translating the 2019 book from page to screen, the new Prime Video adaptation had a ton of pressure to make sure the sex was just as spicy in the movie as it was in readers' heads. Thankfully, it fully delivered. Here are the absolute steamiest Red, White & Royal Blue sex scenes that will have you constantly hitting replay.
Spoiler alert: This post contains spoilers from throughout Red, White & Royal Blue. Sex is a hugely important part of Alex and Henry's messy relationship in both the book and the movie. Not only are their clandestine hookups hot, each one also unveils new facets of each character and how they relate to one another. When Alex's cocky, dominant energy during his initial trysts with Henry is replaced by a sudden vulnerability during their first lovemaking session, it's a turning point for them as a couple.
Director Matthew López knew from the start how pivotal the movie's sex scenes had to be. "I didn't want there to be any misunderstandings about my intentions. I said, 'These two characters in this novel have really great sex,'" López told Decider. "They have a great emotional relationship and they have a great physical relationship. I'm not going to only do one of those [things] in this movie."
Sure enough, Alex and Henry's undeniable physical connection is on full display throughout Red, White & Royal Blue, especially in these sex scenes:
1. A Mouthful At The President's Dinner
Alex and Henry's first hookup is also their most feral. After Alex invites the lovestruck British prince up to his hotel room after the President's Dinner, Henry basically rips off his crush's cloths and pins him to the couch. You can practically feel all that pent-up sexual frustration emanating out of the screen.
2. Shedding Clothes In The Polo Shed
After showing off a bit for his new friend with benefits on the polo field, Henry led Alex to a nearby shed to get another kind of workout.
3. One Night In Paris
Alex and Henry's trip to Paris is without a doubt the movie's most pivotal (and most erotic) sex scene. The couple's first time having penetrative sex is both hot and surprisingly sweet, as they stare into each other's eyes and connect on an entirely new level.
4. Caught In The Act
Not much is shown of Alex and Henry's hotel-room hookup in D.C. ahead of the Democratic National Convention, but we do see a passionate makeout sesh as Henry strips his secret boyfriend of his clothes and leads him to the bed. In the morning, their sexcapades turn into a game of hide-and-seek, as a naked Henry tries to hide from the President's aide who's barged into the room.
5. Making Some History
The film's final sensual moment between Alex and Henry doesn't show any sex, but it's still important to include. The couple sleeps together in a tender embrace after Alex visits Henry in London to assure him that they can love each other despite their political stations.