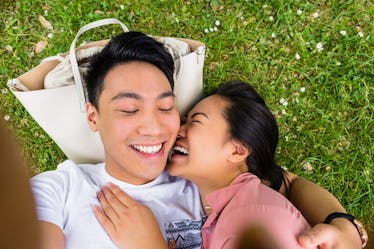 5 Ways To Feel Physically Close To Your Partner That Don't Involve Sex
When you hear the phrase "physically intimate," what does that mean to you? Probably sex, right? Sure, it can definitely mean that, but really sex should just be one of the ways that you express your love and physical connection. Maybe sex is the most fun way, but it's not always the most meaningful — or convenient. Fortunately, there are actually plenty of ways to feel physically close to your partner that don't involve sex at all, but can still have a positive impact on the health and intimacy of your relationship.
How important is physical closeness to your relationship? According to Grace Lee, co-founder of A Good First Date Online, it's essential. "It cements an emotional bond between two people," she tells Elite Daily. "To feel desired in a sexual way is one thing, but to be liked by somebody is more intimate and speaks to you as an individual. When somebody wants to just have sex with you, you could be anybody. But if somebody wants to hold your hand, cuddle, kiss you on the forehead while in a grocery store line — it feels more personal. These physical signals bolster the foundation to any relationship in a way that sex usually cannot."
It's also how we strengthen and reinforce our bonds, explains Sonya Schwartz, a relationship expert and owner of Her Aspiration. "Connecting physically besides sex builds trust and confidence within the couple," Schwartz tells Elite Daily. "It helps the partners become comfortable to one another and improves their overall relationship." So, how can you put their advice to practical use? Here's what the experts say are great ways to be physically close to your partner, besides sex.